81.74 km (50.80 mi)
Distance
-3920 m (-12,862 ft)
Descent
2,836 m (9,305 ft)
Max Alt.
Follow the path of the Kaqchikel Maya in this new multi-day Lake Atitlan mountain bike tour for 2019! With high-altitude pine forests, a rich Mayan history, and tons of agricultural singletrack to explore Tecpán is an amazing place to ride a bike. This tour starts with a visit to the Mayan Ruins of Iximché, and finishes at the shores of Lake Atitlán.
There is no direct road to Lake from Tecpán – we will rely instead on an ancient network of Mayan footpaths dirt roads, and jeeptrack traversing a network of canyons. This is Mountain Bike Guatemala at its finest!
Highlights
Reach Lake Atitlán via a remote and canyonous route
Visit the Mayan Ruins of Iximché
See one of the world's most beautiful lakes from the saddle of your bike.
Cross through remote Mayan Communities
Views of the volcanoes of Antigua and Lake Atitlán
This route is 80% technical agricultural singletrack
Group Rates
2 PPL
3-5 PPL
6+ PPL
Private
$395 USD
/person
$375 USD
/person
$350 USD
/person

message us
Tecpán – Pana via la ruta de Kaqchikeles

Today Begins with a visit to the ruins of Iximché where a local historian and guide will explain the history of the ruins from the postclassic Mayan period. We will descend from the ruins on the route of the Kaqchikel passing through remote Mayan communities on ancient agricultural infrastructure traversing canyons and ridges before dropping to the Rio Madre Vieja where we will enjoy a picnic lunch.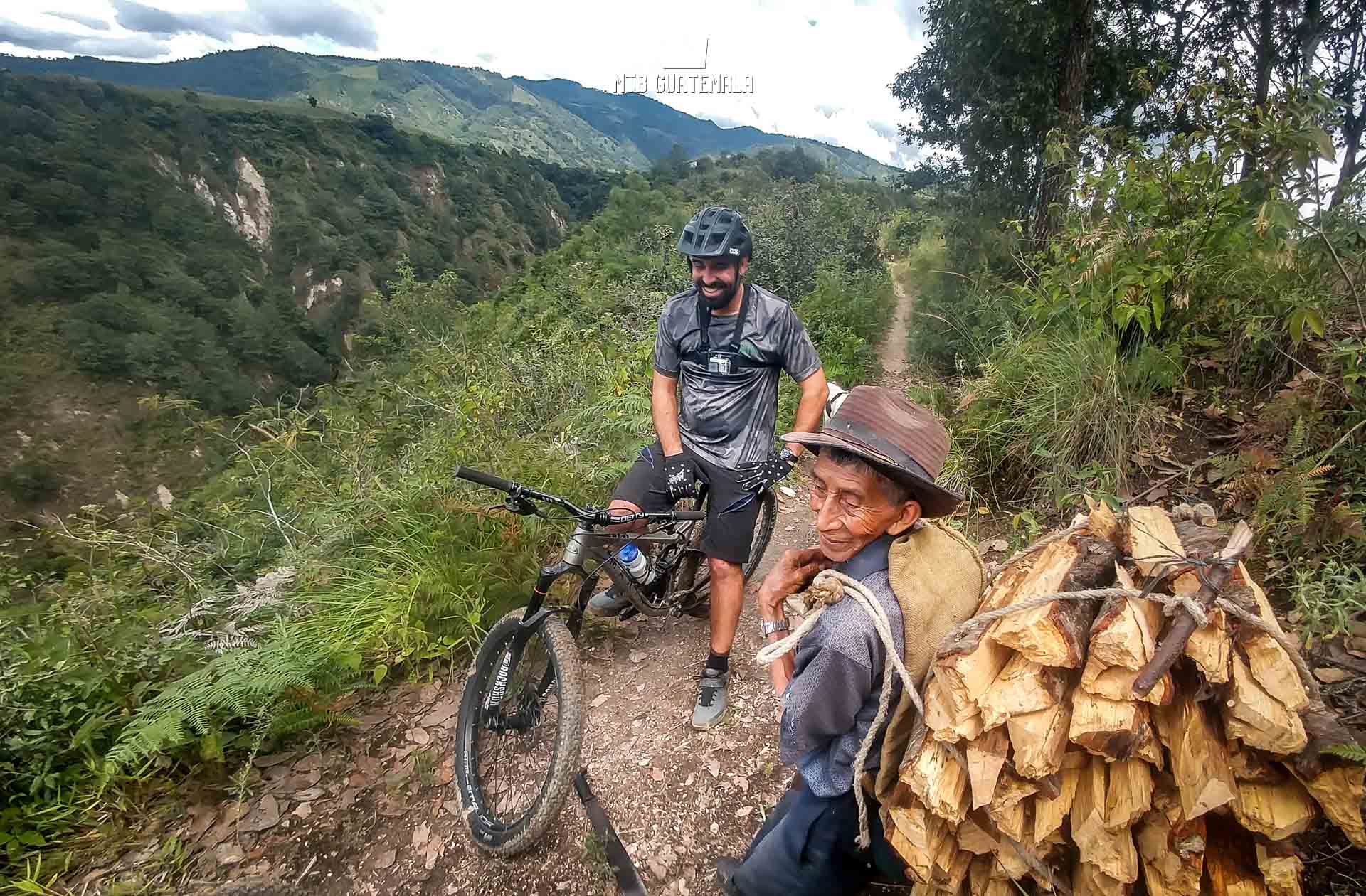 Agua Escondida, San Antonio Palopó, Panajachel
The second half of the day begins high above the lake traversing through a rich fertile region called "la cumbre" where amazing vistas abound. We will dip down into farmland following agricultural jeep and singletrack through plantations of avocado, coffee and fruit trees.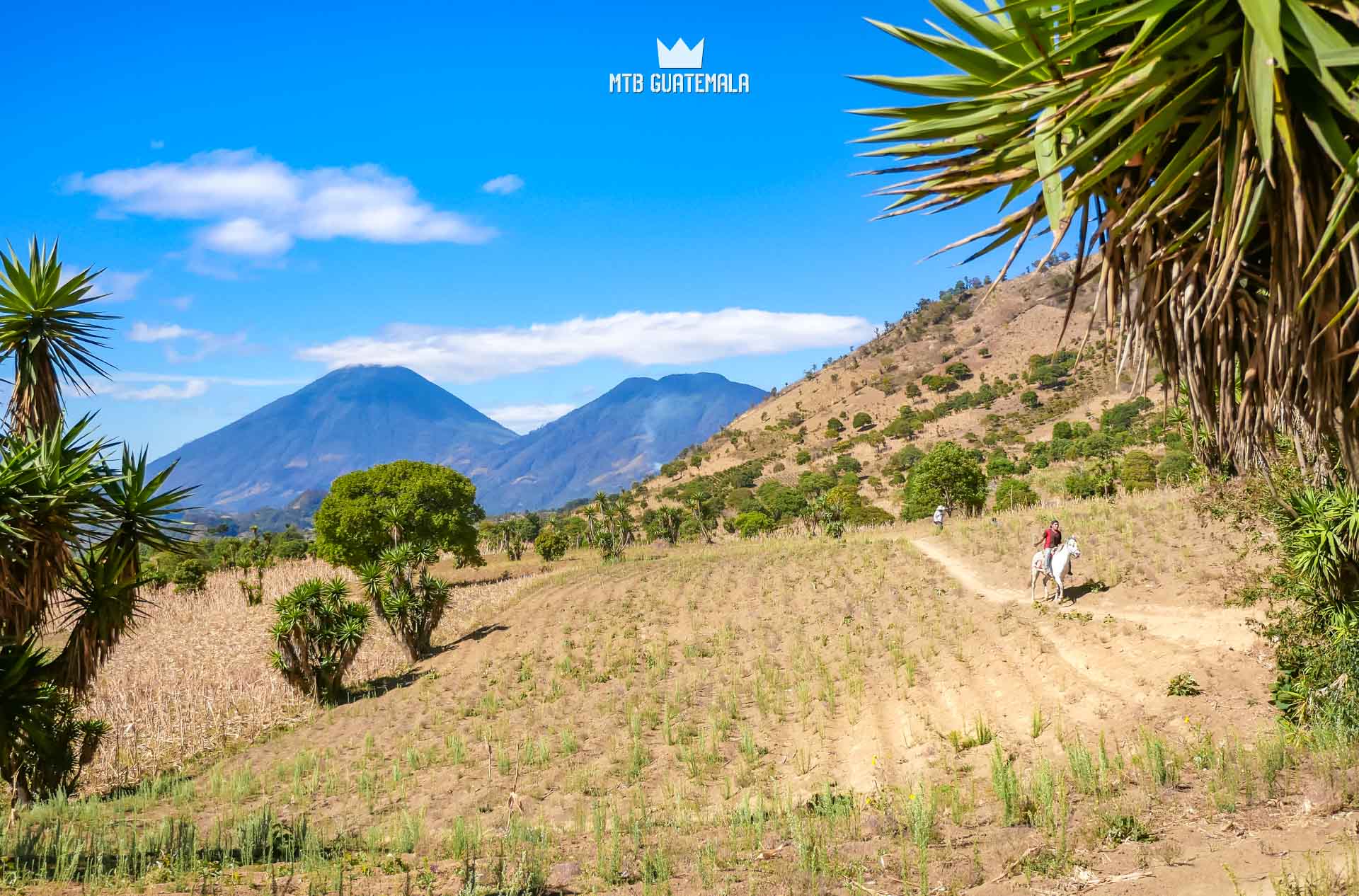 We will take a steep 4×4 road down to the shore to the town of San Antonio Palopó, 800m below. In San Antonio we'll visit a weaving cooperative before continuing on the rolling terrain on the shore of the lake. Next, we'll pass through the town of Santa Catarina Palopó famous for its textile markets and brightly painted buildings.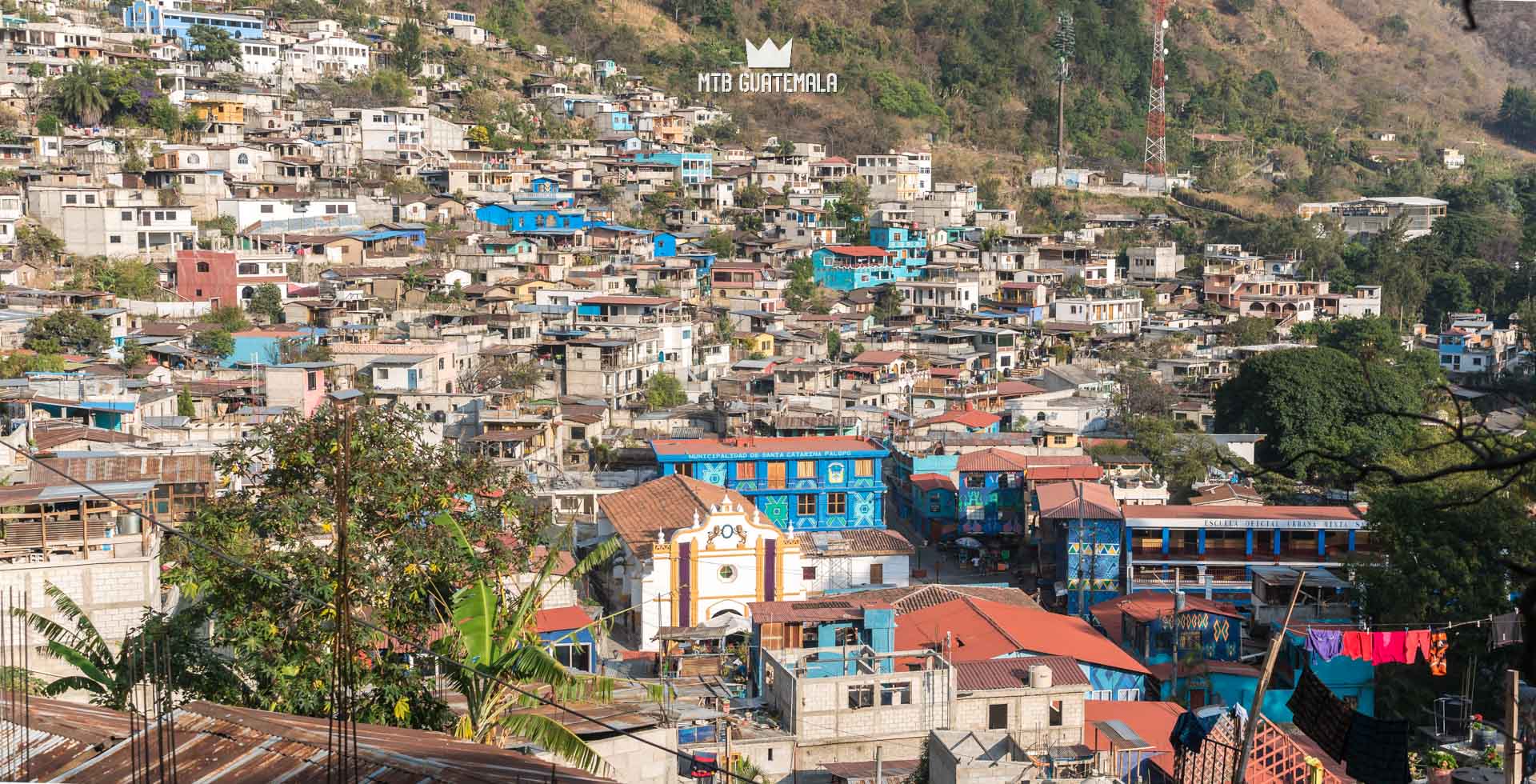 Santa Catarina Palopó, Guatemala (1625.0 m)
The last climb to Panajachel will end with a rewarding ride along the beach of Lake Atitlán. Finishing on the docks, we'll enjoy a cool beverage, finishing on the docks we'll enjoy a cool beverage, catch the sunset from the market street Calle Sentender – and check into our hotel located just a few blocks away for the night.
Tecpán – Pana Canyon Route
Part 2 – La Cumbre
Distance
Ascent
Descent
Max Altitude
 38.87 km (24.16 mi)
733 m (2,405 ft)
-2,008 m (-6,588 ft)
2,836 m
(9,305 ft)
Highland Traverse
Today we will go deep into the indigenous communities above the lake. You will see rural life at its purest as we pedal along beautiful dirt roads and highland jeeptrack through sheep meadows and pine forests.

After a shuttle to the rim of the caldera of Lake Atitlán, we climb 3mi to an alpine plateau at 1800m (9200ft) El Corazón de Las Nubes (the heart of the clouds) – a Mayan ceremonial site. We will follow old logging roads with unmatched views of the lake and its environs. Canyons and volcanoes abound.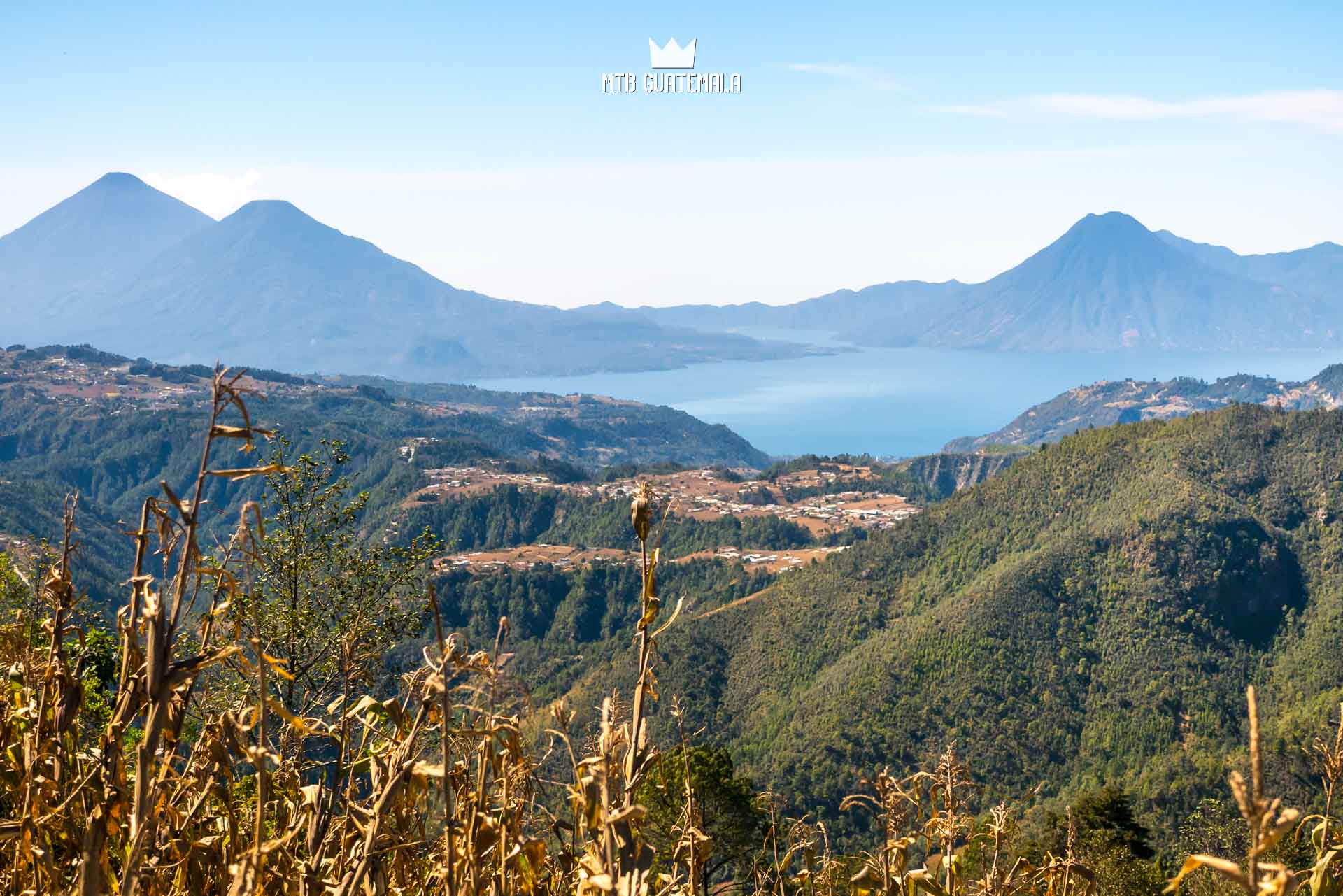 Gallery
Part 1: Panimaché Atiltán Slickrock
Part 2 San Andres Semetebaj – Panajachel
Day Two Totals:

Distance
Ascent
Descent
Max Altitude
2,836 m
(9,305 ft)
733 m
(2,405 ft)
-1,957 m
(-6,421 ft)
2,836 m
(9,305 ft)
Why Ride with Us?
With years of experience riding, racing and exploring in Guatemala our guides know the trails better than anyone.
Additional information
TRIP DETAILS

ARRIVAL / DEPARTURE
Our Shop in Antigua

We run this tour from Antigua however as with most our tours we are flexible.

This tour makes a great jump off for a stay at the Lake. If you would like to to stay after you tour just let us know – we can help you coordinate your accommodation.

If you are already staying or have plans to stay at Lake Atitlán we can meet you in Panajachel for this tour.

Arriving internationally let us know if you would like us to pick you up at the airport

MEALS

Day 1: Breakfast, Lunch (restaurant)

Day 2: Breakfast, Lunch (Picnic)

INCLUDED
NOT INCLUDED
Frequently Asked Questions
Will I have to carry all my stuff with me for the whole trip

?
Nearly all of our trips are accompanied by support vehicle and professional driver  who will meet with us at checkpoints throughout the day.  The support vehicle will carry supplies / spare parts and water. If you would like to leave anything in the vehicle such as extra layers rain gear camera etc. you are more than welcome.
Where will my bike be kept overnight?
All of the hotels that we partner have a storage area where we will secure the bikes overnight. If you are especially attached to your bike you can bring it into your hotel room at night.
Are food/snacks provided?
On our day tours we supply light snacks such as energy bars and fruit and water. Multi-day tours include breakfast and lunch. Dinners are on your own. If you would like a recommendation for a place to eat or would like to dine as a group we can make that happen!
Will my dietary restrictions be accommodated for?
All of our snacks / picnic lunches include a vegetarian option. If you have any other dietary restrictions please let us know when you are booking your tour.