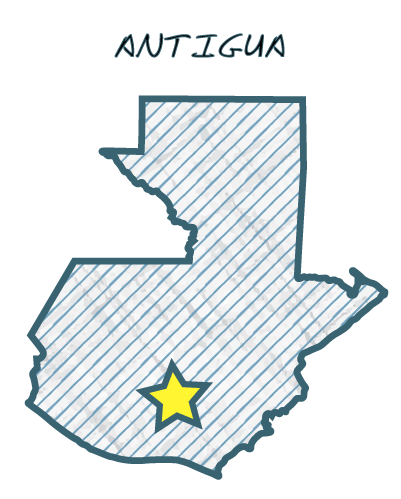 Rich in colonial history, La Antigua is a veritable garden – "the land of eternal spring" flowers bloom year-round here, and steep hillsides produce some of the best coffee in the world. Mountain biking in Antigua Guatemala is as good as it gets.
---
True to its name, "La Antigua" is a UNESCO world heritage site with loads of history to explore. Antigua was largely destroyed by an earthquake in 1773, but its principal monuments are still preserved as ruins.  A "valley of valleys" Antigua is positioned dangerously beneath 3 towering 3400m+ volcanoes, rich in topography and home to hundreds of kilometers of natural agricultural singletrack.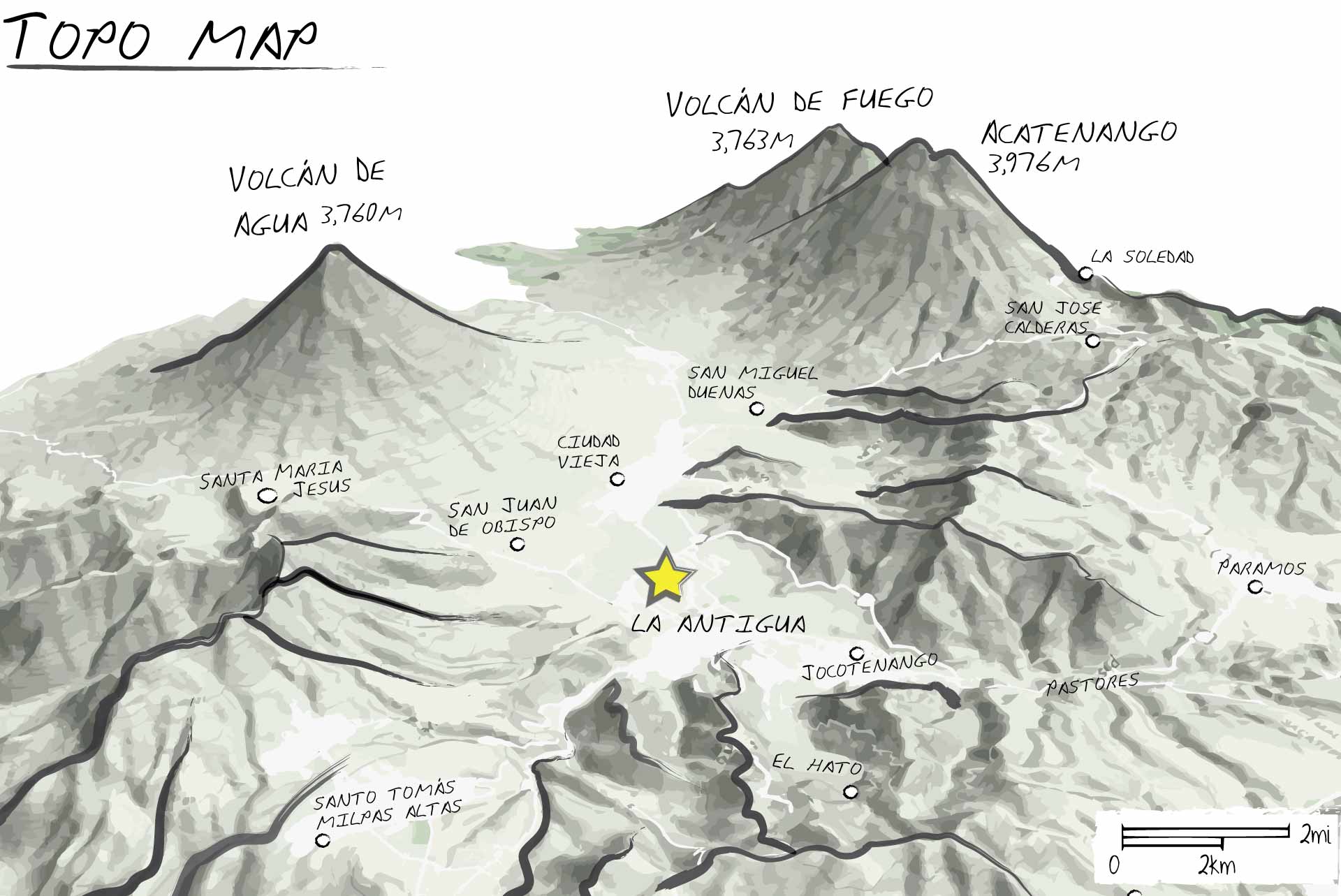 Antigua Guatemala Mountain Biking
The mountain biking in Antigua Guatemala can be described as "world class".  Home to 2000m+ descents, natural pine forests and hundreds of kilometers of agricultural singletrack, local mountain bikers in Antigua have been racing and repurposing natural trails used by horses and Mayan farmers into a web of incredible riding to discover by bike.
The mountain biking in Antigua is varied and steep. Loose descents on volcanic soil, rocky and rooty forest riding, deep, eroded trails and enough high-altitude climbing to keep a cross country racer busy for months. Meander through coffee plantations, pick your way down technical-descents, cross a patchwork of agricultural pastures and finish the day with some at some of the finest restaurants in the country.
BEFORE YOU GO
Part of the reason Antigua was founded was due to it's climate with cool nights and hot days – perfect for growing coffee. The Antigua valley connects to the ocean providing wider fluctuation in temperature then the rest of Guatemala – 10-27°C (50-80°F). Start your rides early because temps can get hot!
Dry Season (Sept – May)
Smooth, hard-pack and fine volcanic sand. Trails cut through dry fields which remain bare for months.
Rainy Season (Sept – May)
Afternoon storms roll through the region around 3pm – very rarely does it rain in the morning or for more than 12 hours at a time.
Recommended Bike
XC Hardtail or Full suspension 80-160mm of travel.
Maximum gear ratio for climbing. 28×42 or 32×50