~968m 3,176 ft/ day
Ascent
-12906m (-42,343 ft)
Descent
3760m (12,336 ft)
Max Alt.
9 Day Highland Enduro MTB Epic
One of the America's best kept secrets: Guatemala is a mountain bike paradise home to incredible terrain, climate and culture. This jam-packed enduro itinerary links together the biggest descents and most scenic trails. in the country. We have hand-picked the best routes that connect the highlands in 9 epic days of epic enduro riding.
This is our biggest, baddest enduro mountain bike multi-day tour of the year averaging over 2000m of descent a day. Get on the bus!
Highlights
Connect the best technical trails in the country with a unique point-to point route
Shuttle Assisted averaging over 6,000ft of descent a day
See Lake Atitlán for the first time from the saddle of your bike
Stay in unique hotels and house rentals
Soak in volcanic hot springs
Finish with an epic descent from the summit of the

3,760 m

Agua Volcano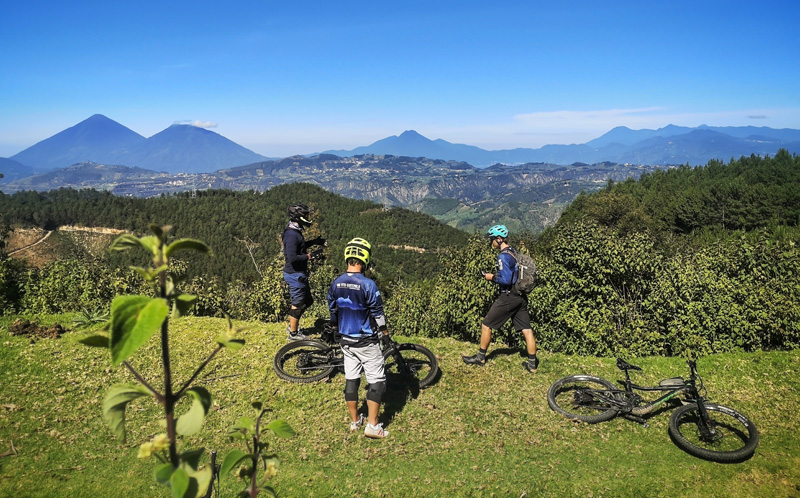 A word from the Guide
By demand we have extended our popular 5 Day enduro tour for a full week of epic riding and sights. This route is as varied as Guatemala itself with sandy volcanic descents, rocky, high and dry pines and rich tropical forests.
Riding a bike in Guatemala gives you a unique perspective to connect Mayan sights while riding ancient Mayan infrastructure on trails and footpaths.
This route connects the chain of Guatemala's highest volcanoes crossing through several distinct regions Quiché, Quetzaltenango, Lake Atitlan and Antigua. The route includes the legendary la Infinita Descent and finishes with a horse-assisted climb and descent of one of Guatemala's highest volcanoes: Volcán de Agua
Tour Details
ARRIVAL / DEPARTURE
Guatemala International Airport
Please schedule your flight dates for at least 24hrs before and after your tour.
Let us know if you would like us to pick you up at the airport
INCLUDED

Meals
Private Transportation
Driver
Accommodation
Professional guides 5:1
Internationally certified in First Aid and Rescue
Park Entrances
Driver
Exclusive house / Cabin Rentals
Mechanical assistance
Snacks
Breakfasts
Picnic lunches
Daily bike cleaning

NOT INCLUDED
Airfare Bike Rental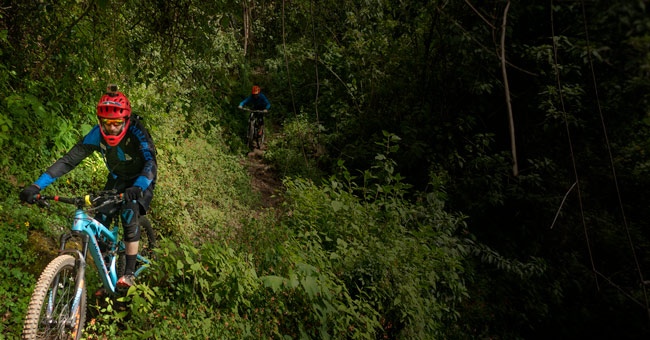 Mountain Bike Guatemala
9 Day Enduro MTB Epic!
ITINERARY
| | | | | |
| --- | --- | --- | --- | --- |
| DAY | BRIEF | | FEB | Hotel |
| Saturday | Arrive in Guatemala | TRAVEL | 2/13 | Antigua |
| Sunday | Antigua Shuttle Day | Riding 1 | 2/14 | Antigua |
| Monday | Totonicapan – Culebra Quichélense | Riding 2 | 2/15 | Toto Mountain Cabin |
| Tues | Cantel / Xela Cerro Quemado | Riding 3 | 2/16 | Fuentes Georginas Hot Springs |
| Wends | La Infinita | Riding 4 | 2/17 | San Marcos la Laguna |
| Thurs | Lake Atitlán | Rest Day | 2/18 | Jaibalito |
| Fri | Cerro Tecpán | Riding 5 | 2/19 | Antigua |
| Saturday | Agua Volcano | Riding 6 | 2/20 | Antigua |
| Sunday | Fly out | TRAVEL | 2/21 | N/A |
Sights on this tour
[justified_image_grid preset=c2 margin=10px limit=0 recent_posts=yes recents_description=manual_excerpt post_ids=1071,3056,1962,4165,6157,3885,3875,3849]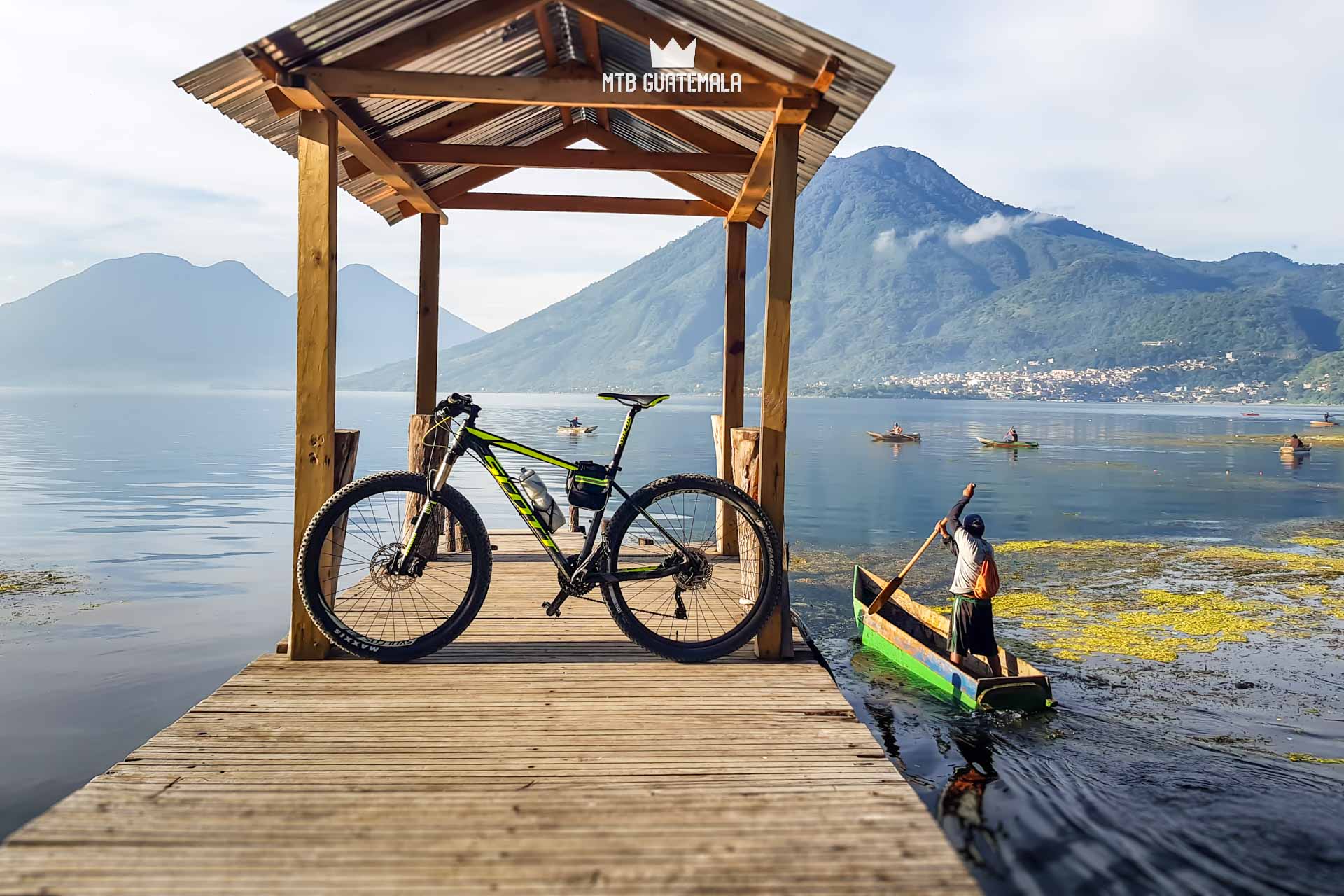 Have Question?
If you need any clarification on details of this tour – just reach out!
Detailed Itinerary
Welcome to Guatemala! We will meet you at the airport where our private transportation will take you to nearby Antigua, about an hours drive. We'll check you into your hotel and meet you for a group dinner where we will meet and discuss the rest of the week.
DAY 2
Antigua
| | |
| --- | --- |
| –2122m (-6,962ft) Decent | Hotel: Cabaña Suiza |
Dos Aguacates Enduro
Two shuttle-assisted descents on steep terrain below the massive volcanoes of Antigua.

UNESCO world heritage site, Antigua is the former Spanish colonial capital of Central America. Throughout its 500 year history the city has been wrecked several times by earthquakes, and is an open-air museum of Spanish colonial architecture, cathedrals, parks and ruins. The city is a major tourism destination and is home to the best restaurants and luxury hotels in the country.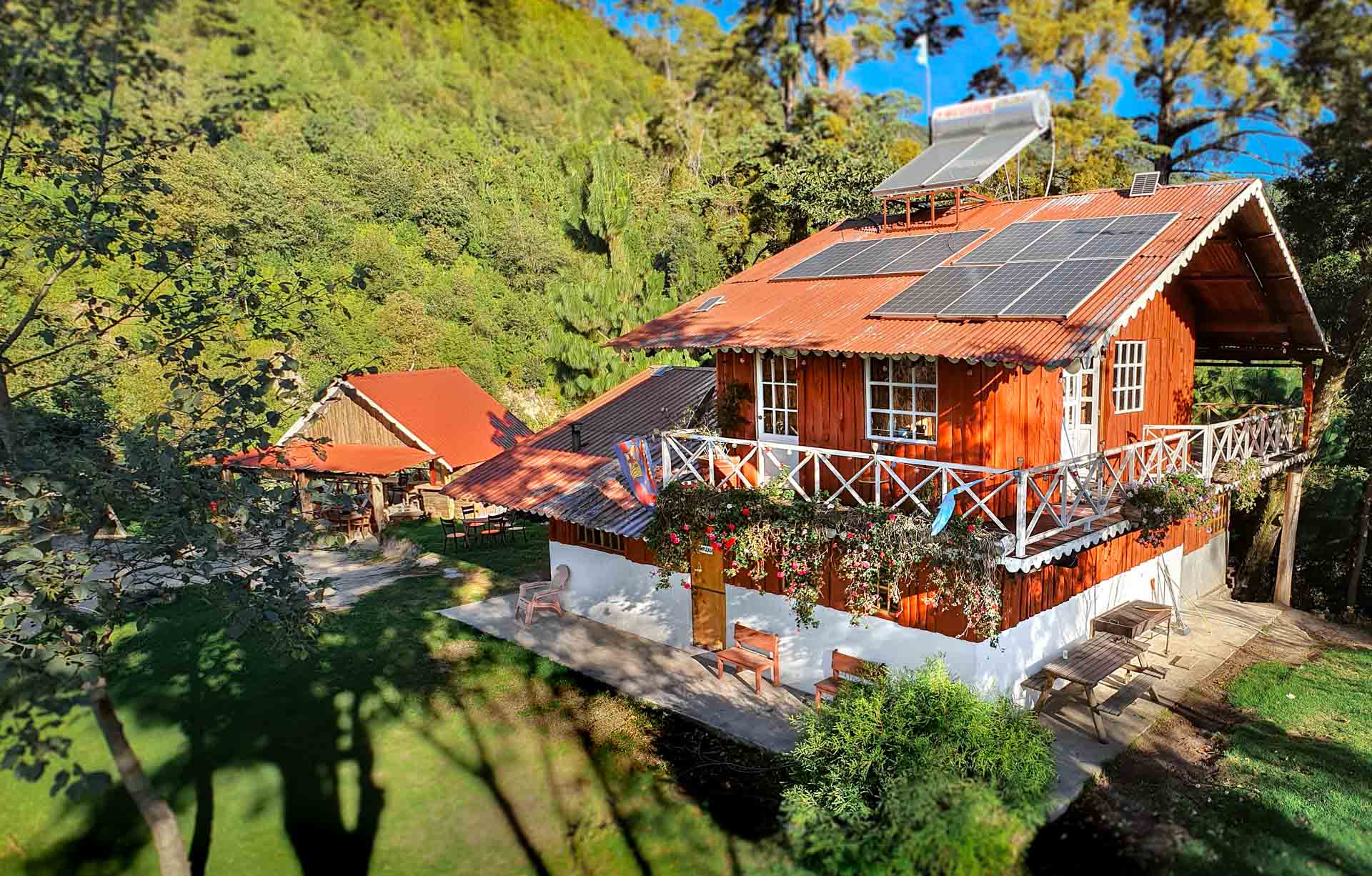 MTB Guatemala Base Camp
La Cabaña Suiza
We moved to Tecpán for a reason. An hour drive from Antigua, the area has unprecedented access to trails and nature, as well as dozens of routes that connect to nearby Lake Atitlán. 
We'll be staying at our cabin for just one night but we'll be back to sample the riding in Tecpan day 7!
DAY 3
Totonicapán
| | |
| --- | --- |
| -2,242m (-7,356ft) Descent | Hotel: Mountaintop Cabin |
La Culebra Quichélense
Traverse unique 3300m alpine summit – drop down technical Mayan trails to Quiché. Lunch in family home. Ride through deep cypress forests. Mountain-top cabin and campfire overlooking Xela.
DAY 4
QUETZALTENANGO
| | |
| --- | --- |
| -2230 m (-7,316ft) Descent | Hotel: Zunil Hotsprings |
Cantel / Cerro Quemado
Shuttle to 3200m – 1000m decent through virgin cypress forest on technical footpaths. Shuttle #2 to Cerro Quemado Mayan Sacred Site drop through steep mountain top flower plantations – finish at volcanic hot springs.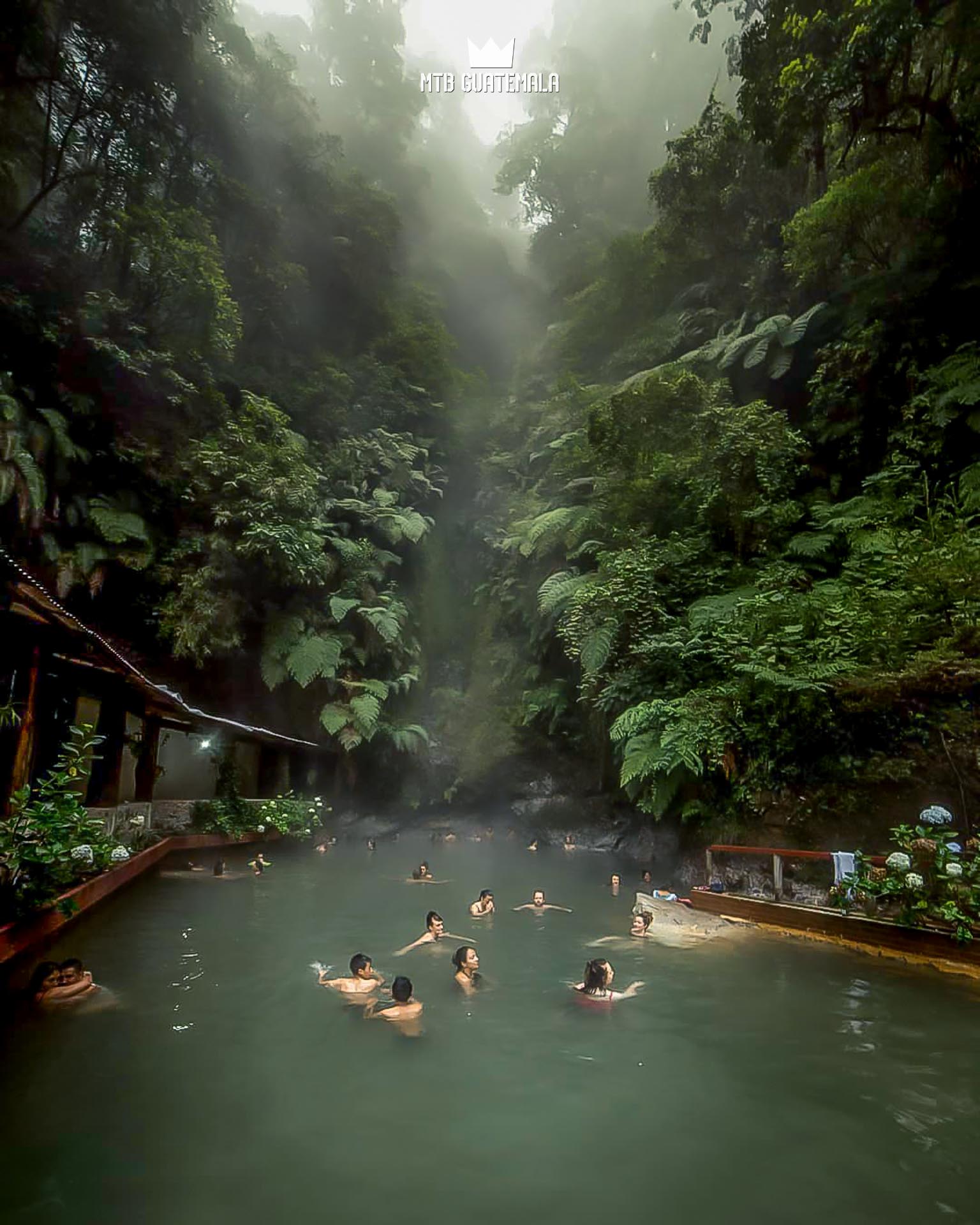 Fuentes Georginas 
Natural hot springs on the flanks of the Zunil Volcano in Quetzaltenango framed by a steep, high wall of tropical vines, ferns and flowers. The setting is intensely tropical, an elevation (2550m) and keeps the air cool. 
DAY 5
La Infinita
| | |
| --- | --- |
| -3,511m (-11,519ft) | Hotel: San Marcos L.L |
The biggest day of the trip – 2700m downhill on the backside of Lake Atitlán on trail through multiple climate zones
– 2hr 4×4 shuttle and finish in San Marcos la Laguna
DAY 6
Lake Atitlán
| | |
| --- | --- |
| Rest Day | Hotel: La Casa Del Mundo |
Kick back for a day at the world's most beautiful lake at a unique boat-accessed hotel. Optional kayaking.
DAY 7
Highlands / Tecpán
| | |
| --- | --- |
| -1500 m (-4,921 ft) | Hotel: Tecpán Cabin |
(Half Day Riding) Boat to Panajachel in the morning – shuttle up to 3200m mountain-top forest passing a 19th century sawmill finish with a 600 year technical trail and descent to Tecpán.
DAY 8
Volcano Ride
| | |
| --- | --- |
| -2263m (-7,425 ft) Descent | Hotel: Antigua |
4am start – porters and mules will carry the bikes – 5 hour hike to the summit of the Agua Volcano at 3760m (12,337ft) Enjoy one of the longest technical descents in the country to the streets of Antigua Below.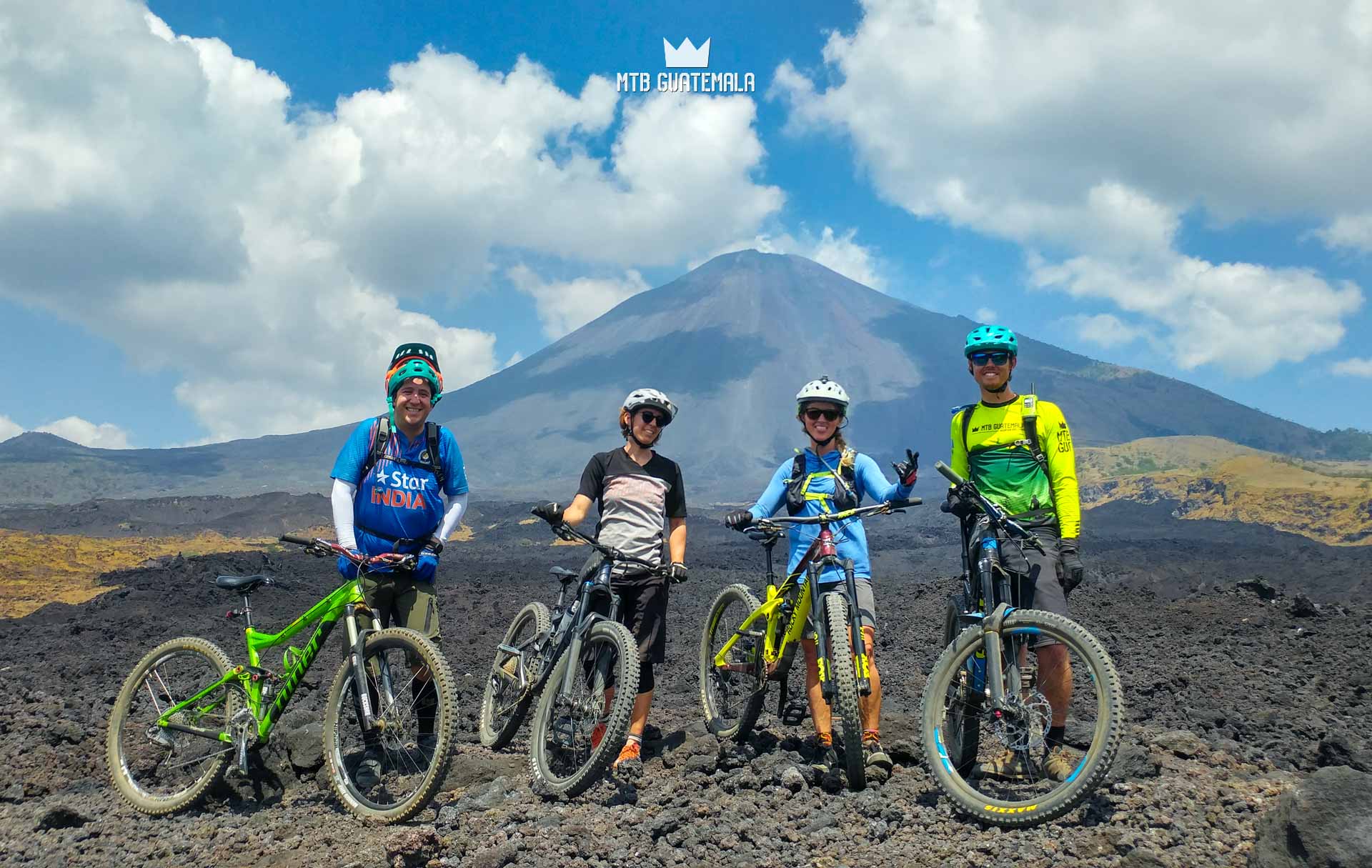 Don't want to fly with your bike?
Additional information
| | |
| --- | --- |
| Nights in Hotel | 8 |
| Shuttle Support | Yes |
| Riding Time | 6 Days |
Stage 1
Stage 2