-8,904m (-29,213ft)
Descent
One of the America's best kept secrets: Guatemala is a mountain bike paradise home to incredible terrain, climate and culture. This 7 day itinerary follows old agricultural and trading routes of the Maya connecting the best sights in the country. The riding is technical and raw -unlike anything in the northern hemisphere.
Get ready to see Guatemala like few do.
Highlights
Connect the best trails and sights in the country with a unique multi-day route
Shuttle Assisted – nearly twice the downhill and over 28,000ft of descent!
90% off-road and over 40% singletrack
Visit the Mayan ruins of Ixcimché and Q'umarkaj
Views of two Active Volcanoes
See Lake Atitlán for the first time from the saddle of your bike
Stay in unique and tranquil eco-hotels
Soak in volcanic hot springs
After years of riding, guiding and exploring in Guatemala I dreamed up the idea of a point-to-point tour of the highlands connecting a variety of sights and regions. This route is as varied as Guatemala itself – with sandy volcanic descents, rocky, high and dry pines and rich tropical forests.
Riding a bike in Guatemala gives you a unique perspective to connect Mayan sights while riding ancient Mayan infrastructure on trails and footpaths.
This route crosses the chain of Guatemala's highest volcanoes and through several distinct regions dipping into Quiché and Chichicastingango before passing through Quetzaltenango and finishing with rest day at Lake Atitlán.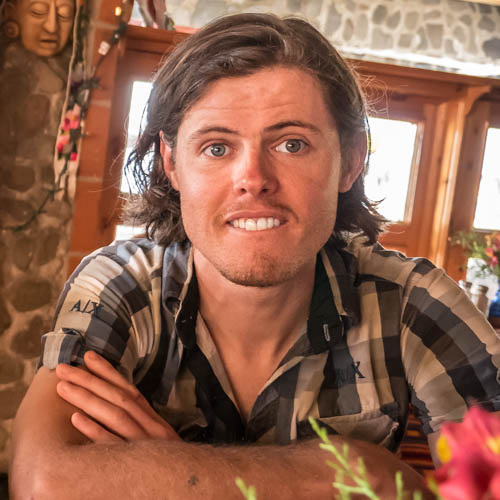 Spring Break in Guatemala! Max 8 People
Guatemalan Summer
Join us for the best week of riding in your life! Max 10 People
Prime green season in Guate
The best time to ride - right after the summer rains Max 10 People
We are offering this tour at three dates for 2019. Spaces are limited! Reserve your spot today!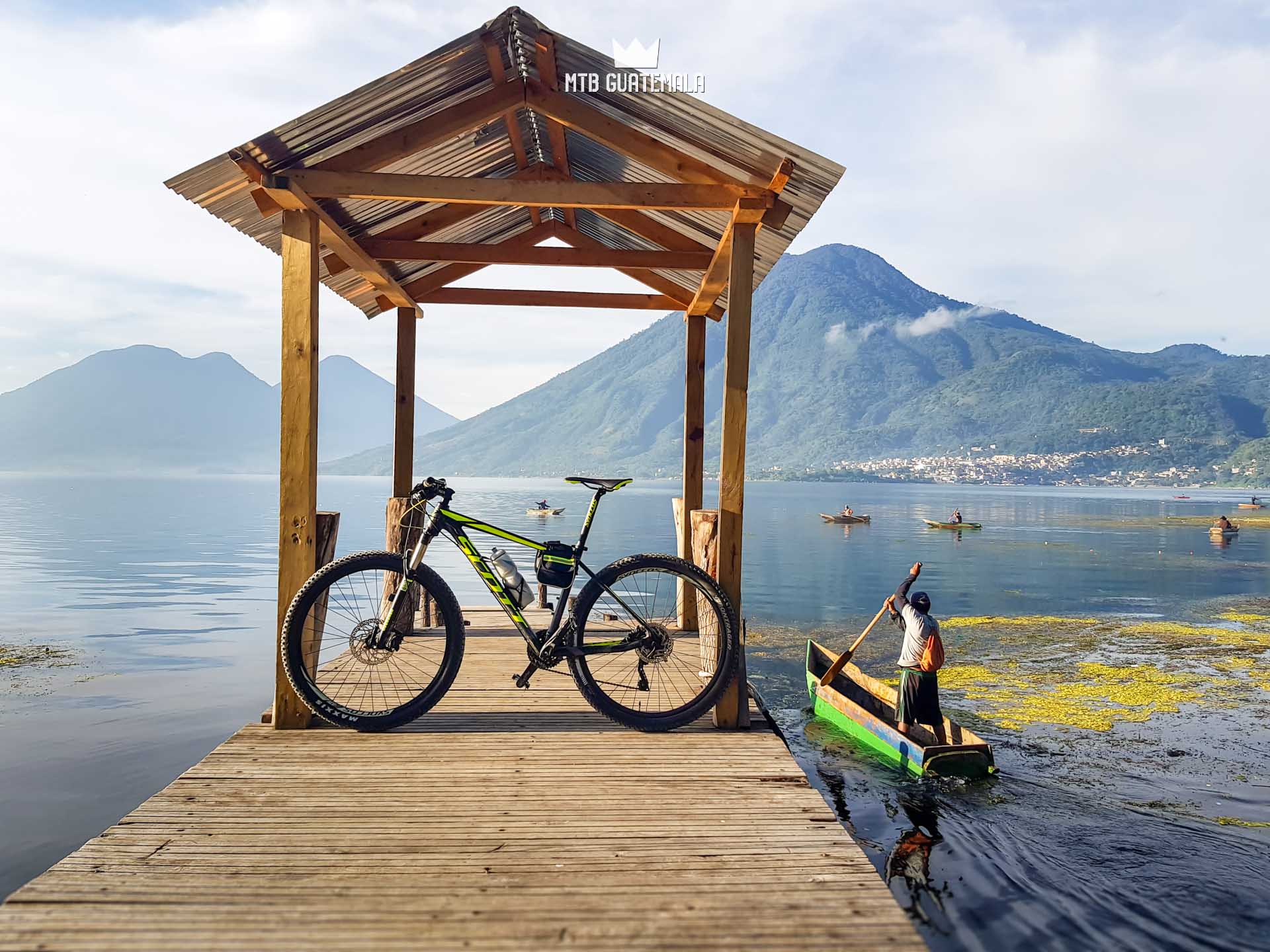 TOUR DETAILS
ARRIVAL / DEPARTURE
Guatemala International Airport

Please schedule your flight dates for at least 24hrs before and after your tour.

Let us know if you would like us to pick you up at the airport

INCLUDED

| | |
| --- | --- |
| Meals | Ground Transportation |
| Accommodation | Professional guide |
| Park Entrances | Driver |
| Bi-Lingual Mayan Historian | |

NOT INCLUDED
Airfare
Bike Rental
ITINERARY
| | | | | | |
| --- | --- | --- | --- | --- | --- |
| DAY | BRIEF | | NOV | DEC | MAR |
| Saturday | Arrive in Guatemala | TRAVEL | 11/5 | 12/14 | tbd |
| Sunday | Antigua Shuttle Day | Riding 1 | 11/6 | 12/15 | – |
| Monday | Antigua-Tecpán | Riding 2 | 11/7 | 12/16 | – |
| Tues | Tecpán Iximché | Riding 3 | 11/8 | 12/17 | – |
| Wends | Totonicapán – Quiché | Riding 4 | 2/9 | 12/18 | – |
| Thurs | Chichicastenango Market | Optional Rest | | 12/19 | – |
| Fri | Xela Santiaguito Volcano | Riding 6 | | 12/20 | – |
| Saturday | Lago Atitlán | Optional Rest | 11/10 | 12/21 | – |
| Sunday | Return to Antigua | TRAVEL | 11/11 | 12/22 | – |
Don't want to fly with your Bike?
Additional information
Day 0: Travel / Arrival
Welcome to Guatemala! We are available to a organize private car to pick you up at the airport – delivering you to our guesthouse in Antigua. Our bike shop can assist you with assembly of your bike / last minute repairs before the big week.
We will be doing a optional cultural ride in the afternoon for those that arrive early –  sharing a few local trails allowing you to become acquainted with our beautiful city. In the evening there will be welcome dinner where we will go over all the awesomeness to come.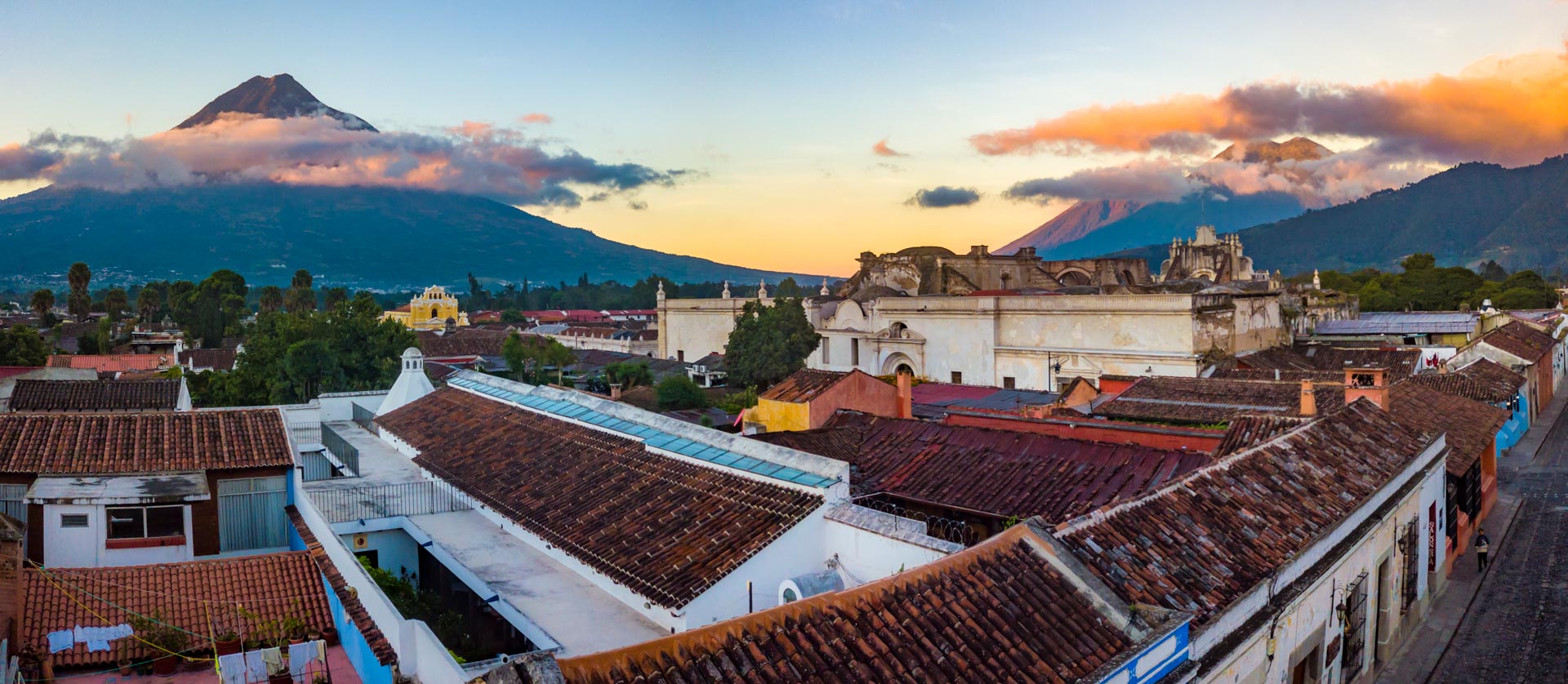 Day 1: Antigua Guatemala
True to its name, "La Antigua" is a UNESCO world heritage site with loads of history to explore. The city was largely destroyed by an earthquake in 1773, but its principal monuments are still preserved as ruins. Today, we will ride through coffee and fruit plantations with a shuttle-assisted itinerary that showcases the best of the valley.
| Distance | Ascent | Descent | Max Altitude |
| --- | --- | --- | --- |
| 29.47km 18.31mi | 6,91m 2,268ft | -2,122m -6,962ft | 2,529m 8,298ft |
Day 2: Antigua - Tecpán
Today we will hit the road – begining our journey into the interior oft the coutry following a network of mayan and agricultural trails. We will start with a shuttle all the way up to 2500m below the Acatenango Volcano – the "top of the world" from here you can see 4 enormous volcanoes and across the country. We will drop down sandy singletrack pasing through small towns that make their living working the land – sewing and harvesting crops by hand and horse.
Connecting a spidery network of deeply erroded 1000 year old trails we will make our way to Tecpán crossing the canyons of Patzún and finishing at an eco lodge for the night.
Top of the world XC Tour

Distance
Ascent
Descent
Max Altitude
27 km
16.78 mi
370m
1,214 ft
-1230m
-4,036 ft
2,530m
8,297ft
Day 3: Tecpán
A region of spectacular beauty and a layered history Tecpán is a great starting point for our tour of the highlands. Home of cool pine forests, Mayan ruins and Swiss-inspired chalets the area has a ton of character. In the morning we will pay a visit to the
Ruins of Ixcimché
former Mayan metropolis destroyed in 1520 located at 2500m atop an isolated cliff. We will learn about the history of the place from a local guide and explore the  600 year old Mayan pyramids.
On the bikes we will start with a long climb to over 10,000ft on rough 4×4 roads through pine forests traversing Cerro Tecpán with grand views of Lake Atitlán and its 4 volcanoes. Today's Route is a remote one that connects several mountains and lakes and includes a picnic lunch. We will finish the day at a small log cabin chalet and restaurant in the mountains.
Tecpan-Chichoy
Distance
Ascent
Descent
Max Altitude
 39.23 km
(24.38 mi)
1480 m
(4,856 ft)
–1,309 m
(-4,295 ft)
3,021 m
(9,912 ft)
Day 4: Totonicápan - Quiché
The longest and highest day of the tour – today will climb to a unique alpine plateau with grand views of the Cuchumatánes mountains to the north. Near 11,000 ft you will see some of the rare alpine grassland environment in Guatemala with 360 degree views across the entire country.
Parcialidad Velasquez is the largest protected coniferous (pine) forests in Central America. The forest is home to thousands of small natural springs – an important water supply to the villages below. .The indigenous cantones of Totonicapán have banded together to protect the forest as a water source and the area is full of aqueducts and trails.
We will descend "la Culebra Quichélense" an ancient and technical trail that follows an aquaduct and slices through cliffs before dropping into the dry pine canyons of Quiché. In the forest are several Mayan religous sites and caves used to this day for fire ceremonies. We will finish in Santa Cruz del Quiché – a city the heart of the modern Mayan world.
Totonicapán – Culebra Quichélense
Distance
Ascent
Descent
Max Altitude
47.19 km
(29.33 mi)
1132 m
(3,714 ft)
-2,429 m
(-7,970 ft)
3,301 m
(10,831 ft)
Day 5: Quiché and Chichicastenango
Today is an optional rest day. We will begin today with a short ride to the ruins of Q'umarkaj. Q'umarkaj was one of the most powerful Maya cities when the Spanish arrived in the region in the early 16th century. It was the capital of the K'iche' Maya in the Late Postclassic Period. From the ruins we will follow "el ruta de los escarabajos" – a local mountain bike club a.k.a "the beetles" – named after the ridiculously steep climbs in the region. We will follow active Mayan footpathsthrough steep canyons and ravines to the market town of Chichicastenango.
The route of Escarabajos Quiché!

.gp
Distance
Ascent
Descent
Max Altitude
 12.60 km
(7.83 mi)
530 m
(1,739 ft)
-505 m
(-1,657 ft)
2,052 m
(6,733 ft)
Our visit is timed with the weekly market in Chichicastenango- one of the largest indigenous markets in Central America famed for its vibrant textiles and artisanal crafts. We have the afternoon to walk the markets before busing to our next destination: Alaska.
At 3100m (10,170ft) La Cumbre Alaska is the highest point on the Pan-American highway between the United States and Mexico. From this spot you can see the chain of Guatemala's highest volcanoes.
We will drop the bikes for a quick downhill to the valley of Quetzaltenango for the night – descending the course of a local XC race through massive old growth pine trees finishing at our hotel for the night in the city.
Descenso Alaska
Distance
Ascent
Descent
Max Altitude
 15.60 km
(9.70 mi)
340 m
(1,116 ft)
1,025 m
(-3,363 ft)
3,069 m
(10,069 ft)
Day 6: A very volcanic day!
Today we will ride to two volcanoes and see one of Guatemala's newest and active volcanic creations: Volcán Santiaguito. In 1920 an enormous eruption rocked Santa Maria blowing off the southern side of the muntain, and a volcanic cone has been growing ever since.
Heading out of Xela in the morning climb EL Baul Park with a beautiful views of the city – descending from the cross we will connect some of the many mountain bike trails in the park.
A 4km climb will bring us to the town of Cantón CHICUÁ home of Cerro Quemado: our first volcano of the day. This extinct volcanic cone is home to an enormous lava field and many religious sites. Pilgrims come from all over to worship on the burned mountain. We will cross colorful fields of flowers grown for the offerings before descending a rough and loose singletrack.
Xela – Cerro Quemado
Distance
Ascent
Descent
Max Altitude
20.40 km
(12.68 mi)
1137 m
(3,730 ft)
-961
(-3,153 ft)
2,706 m
(8,878 ft)
We meet up with the van for a brief shuttle along the flanks of Volcano Santa Maria packing our lunches before heading to the Santiago Mirador through pastures and cow paths. There we will have lunch at the mirador overlooking the active volcano before snaking back around the mountain to catch some of the singletrack below santa maria. Then we will descend down to Zunil (over 1000m of DH) on steep dirt and jeep track.
Shuttle to the Fuentes Georgianas – hot springs and hotel for the night.
Mirador de Volcán Santiaguito
Distance
Ascent
Descent
Max Altitude
 18.21 km
(11.32 mi)
423 m
(1,388 ft)
-1,311 m
(-4,301 ft)
2,850 m
(9,351 ft)
Day 7: Finish at Lake Atitlán
Our seventh day on the bike we cut out the climbing with a shuttle high above Lake Atitlán. We will follow soft, pine forested logging roads down to the town of Santa Clara on the western side of the lake. For the hearty we will make the technical descent the final 800m down rough mayan trails finishing at Mayachik an eco resort and yoga retreat for the night.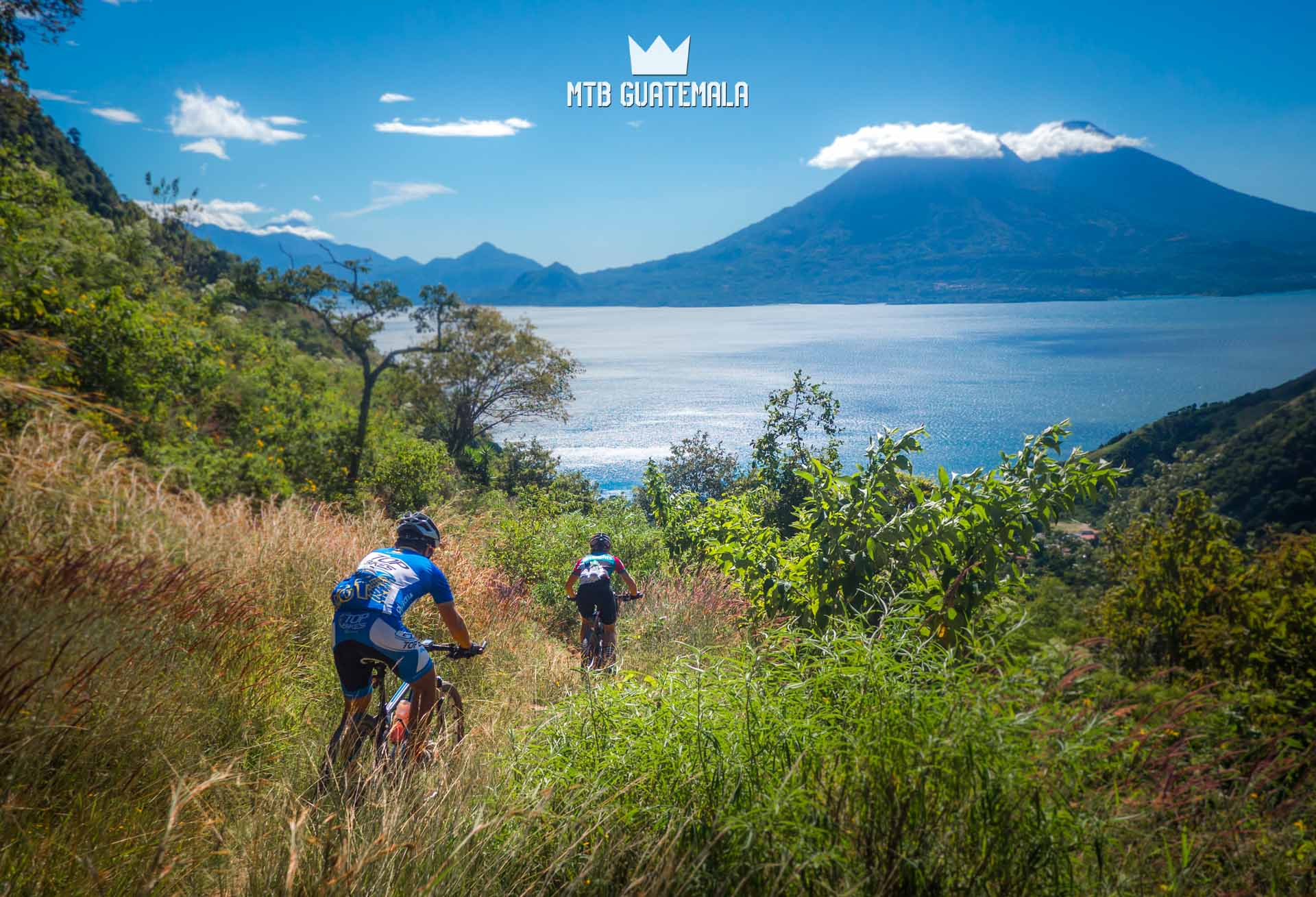 Ixtahuacán – San Juan La Laguna

Distance
Ascent
Descent
Max Altitude
23.00 km
(14.29 mi)
653 m
(2,142 ft)
-1,513 m
(-4,964 ft)
2,586 m
(8,485 ft)
Day 8: Rest and Return to Antigua
It is no coincidence that we finish the tour at one of the most beautiful lakes in the world. You earned it! Today you will have the chance to swim, visit local markets, kayak or simply hang out in the hammock and take in the view!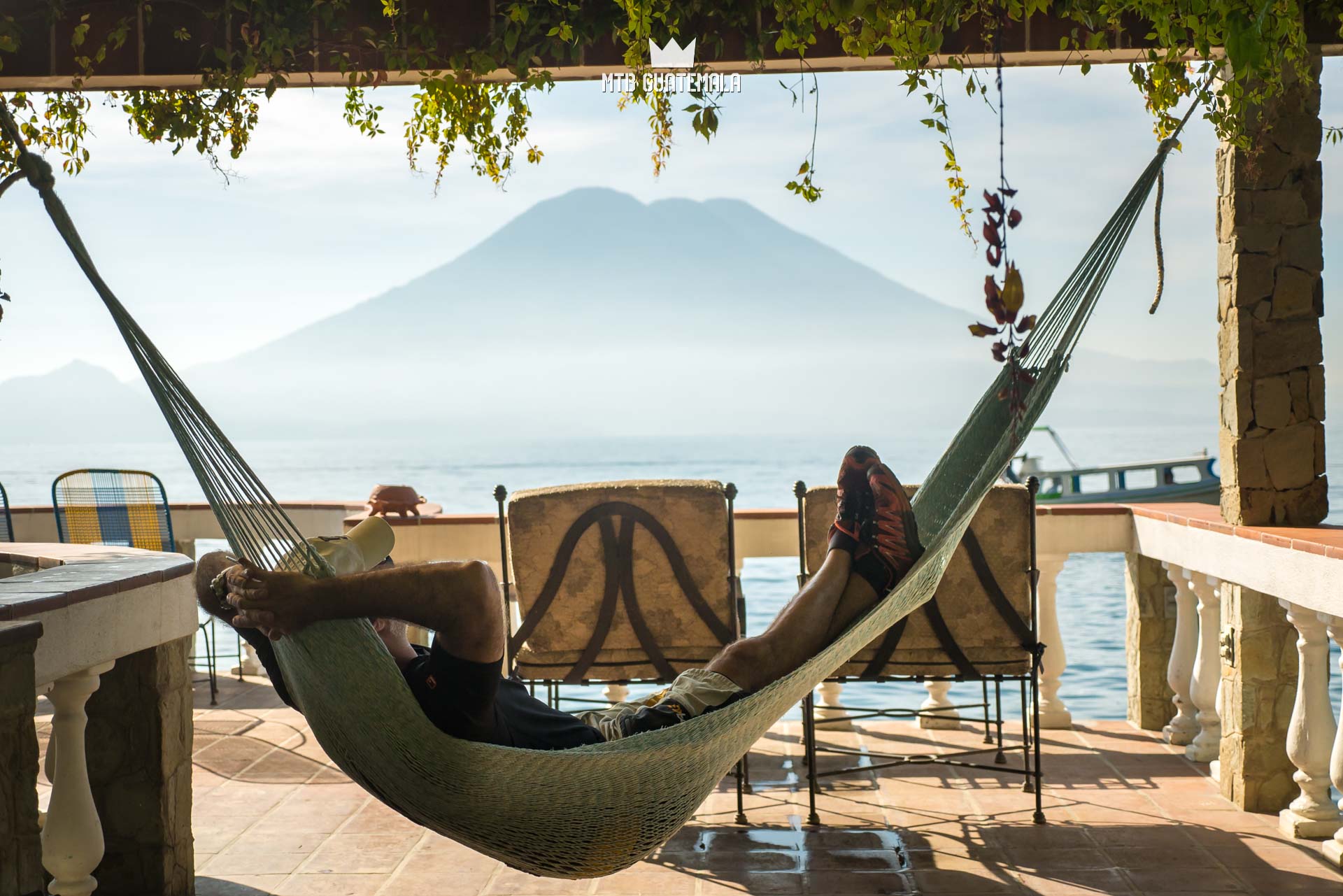 In the evening we will take a boat across the lake to Panajachel for a final meal before boarding the bus for the ride back to Antigua.
For this tour we have selected a few of the most unique places to stay in Guatemala using a new infrastructure of sustainable eco tourism infrastructure. These are not five star properties but they are special and located in places that are peaceful and feature the finest in Guatemalan family hospitality.