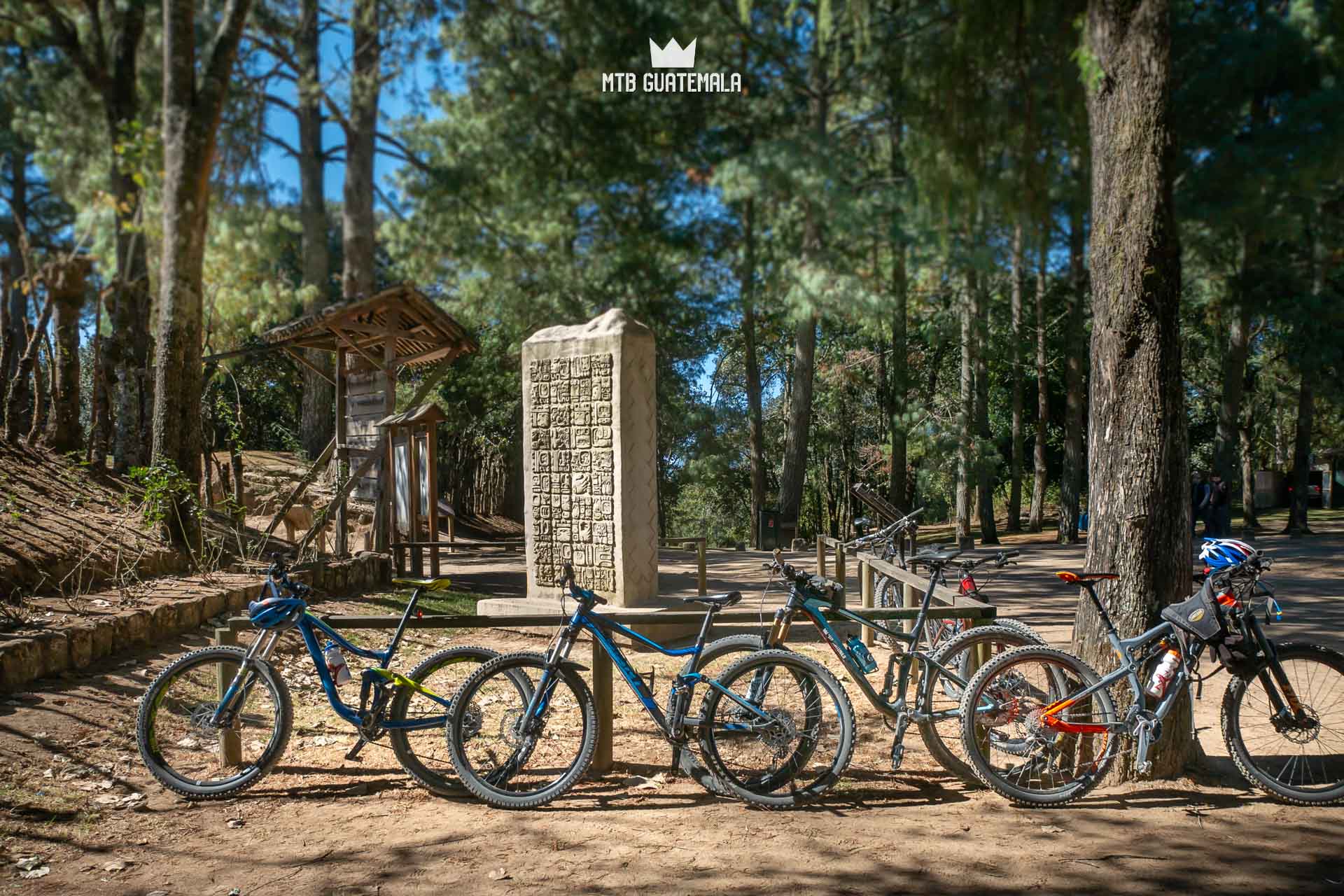 Tecpán – Pana Multi-Day Mountain Bike tour with MTB Guatemala
Few routes connect to Lake Atitlán from neighboring mountains of Tecpán. Over the years we have scouted and explored various trails and connections –none of them are easy. The riding this part of Guatemala is raw. Trails here are ancient and worn and the topography is extreme. No matter what variation of the Tecpán-Pana you take to Panajachel it makes for epic, full-day adventure on the bike.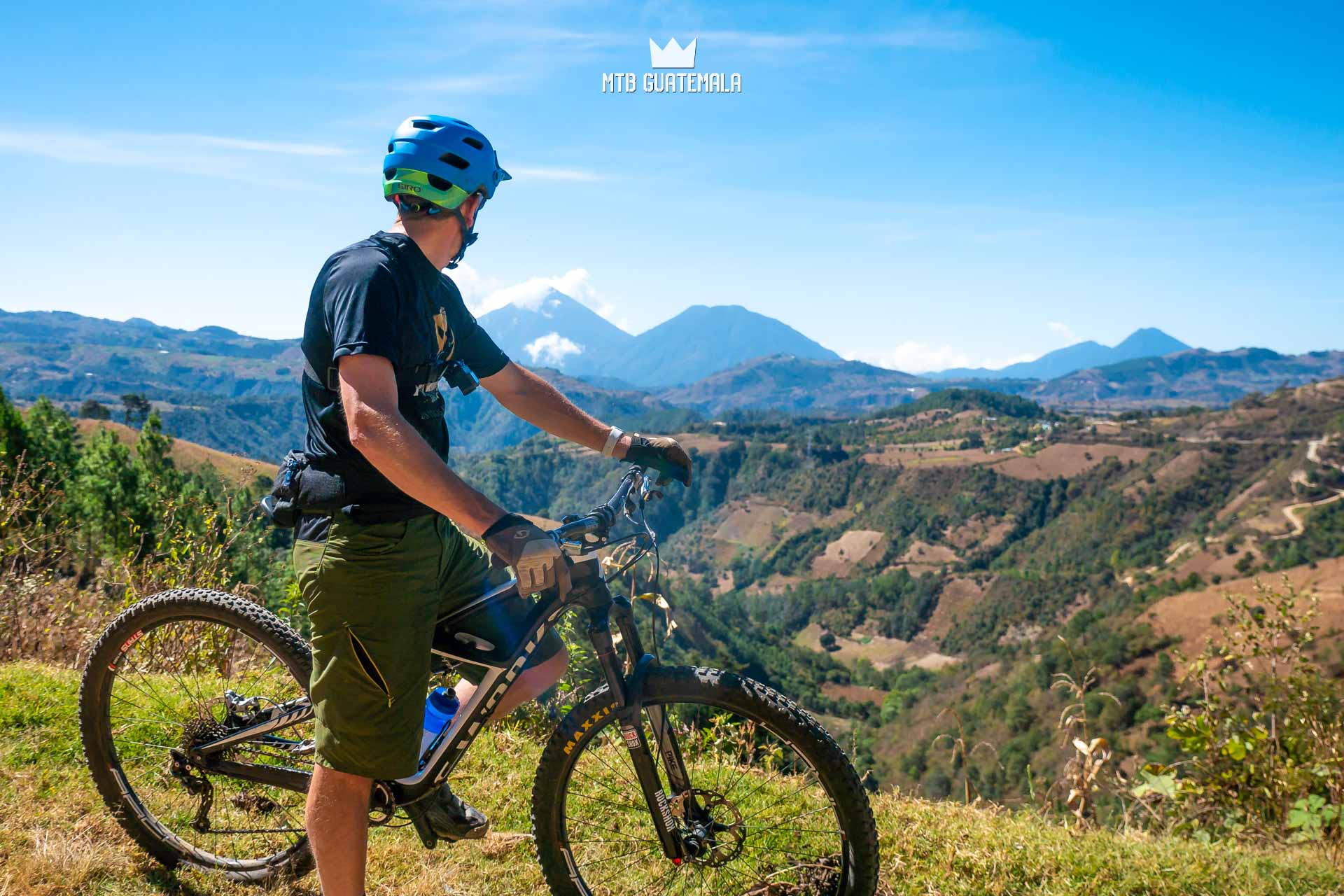 The goal was simple: take mountain bike tourism where it had never been before in the heart of the territory of the Kaqchikel Maya. We would follow ancient trials – sticking to singletrack as much as possible en route to one of the most beautiful lakes in the world. Lago de Atitlán.
One of the world's most beautiful lakes Lake Atitlán gets little mention for the incredible topography that surrounds the area. (View from Cerro Tecpán)

Tecpán
We dropped the bikes outside of Tecpán on a rural road surrounded by dairy farms. Part of why I love this region is because it reminds me of my home in Vermont. Tecpán has a strong German / Swiss influence and the landscape is dotted with 19th century farms. We could see our breath in the cold – following dirt roads lined by enormous pine and cypress trees. After about 10km of riding we stopped at a log cabin / restaurant for breakfast. The most important meal of the day when you are cycling: Guatemalan breakfasts often come in courses and are never small!
Iximché
A short distance down the road from the restaurant was the ruins of Iximché: a 15th century ruin and former capital of the Kaqchikel Maya. Here we met Alex – our local guide and historian who greeted us in the native language ri q'ejelonïk richin nimaq'a'! before continuing with a tour and history of the place (thankfully) in English.
Iximché
A short distance down the road from the restaraunt was the ruins of Iximché: a 15th century ruin and former capital of the Kaqchikel Maya. Here we met Alex – our local guide and historian who greeted us in the native language ri q'ejelonïk richin nimaq'a'! before continuing with a tour and history of the place (thankfully) in English.
Iximché was one of the newer Mayan cities when the Spanish arrived in the 1500's – It is said that Guatemala got it's name from the place who the locals refereed to as Quauhtitlan, which means "between the trees".

About the crew
Marc, a local American living here in Guatemala, had contacted me a few months back to organize a christmas mountain biking trip / wedding present for his brother who lives up in Colorado. "My brother is like me" he said "not 100% on the bike but fit and up for anything." I metioned our two day Tecpán-Pana route and the idea of reaching Lake Atitlán for the first time by bicycle. "sold." he said.
At the last minute confirmed two more people for the trip: Illya, an American teacher also from Colorado living in Guatemala City and Colin, a Minnesota native, artist and carpenter who was new to mountain biking but proved to be a very strong adventure rider.
Connecting Canyons
Connecting Tecpán to lake Atitlán you have a few options: take the high road over Cerro Tecpán which follows loose, rocky 4×4 tracks, or drop down into the canyons of Patzún, a complicated web of zig-zagging trails and river crossings. None are easy. With 300m deep canyons and a patchwork of foot and agricultural paths the area can only be traversed by hiking, on horseback, or in our case, by mountain bike.
For me, more than anything on this trip, stood out the friendliness of the local people. It can be hard to describe the "feel" of a place especially to foreigners who arrive here rattled by travel, full of misconceptions and a general unease about Guatemala. "Is it safe?" is the most common question I have to answer as a tour guide and I respond with my personal experience, riding over 8 years here throughout the country.
In Guatemala, as in any new place travelers need to be friendly and above all need to be respectful. Cities, as with most urban places throughout the world come with their dangers -the rural countryside is another story. The farther you get from the town centers the more surprised locals are to see tourists, and the friendlier welcome you receive.
"As foreigners we have the ability to transcend borders –to be in one country one day and in a completely different reality the next. If you come to a country with fear, carrying the extra baggage of your job back home or the stress in your life, your vacation experience will reflect that."
First Views of Lake Atitlán
One of the more interesting things about Mountain Biking in Guatemala is the ability to pass through various climates on the bike. Beginning the day with overcast, cold temps in the mountains at 9,000ft, we rode through dry pine forests, lush ravines, finishing at the shores of the lake for a hot sunset. Overall, our shuttle-assisted route included over 6,000ft of downhill – but that didn't mean we weren't all exhausted by the end, ready for a few cervezas frías!
Descending the final 4×4 road to Lake Atitlán, we were greeted by expansive views of the volcanic caldera. More like an ocean than a lake, Atitlán is an enormous body of water with 13 towns around its rim. Dropping into the town of San Antonio Palopó is like a step back in time. The locals here still make their living one thread at a time,  weaving on crude, wooden machines. Brightly colored textiles and handicrafts fill the streets.
Reaching the lake at the end of the day is always a magical. It takes a moment to process the range of interactions and sights experienced in the day. After starting from in the cold mountains above, we now feel the heat of a tropical sunset on our faces.

The experiences you can connect on a bicycle in one day in Guatemala span cultures, language and climates – it's a potent mix for anyone even without the physical exertion of riding a bike! Although visiting as tourists, we can take many lessons from the people we encounter: Smile, greet, and make an effort to understand those who are different. Guatemalans carry consistent optimism in the face of challenge –  all the while having fun! It's inspirational.
The Guatemalan people are no stranger to cyclists, with numerous  bike events throughout the year. When mountain bikers like us ride through these towns, children run out of their homes to cheer, shouting words of encouragement. The cheers are rewarding and are also symbolic – a connection that is shared and a warm welcome extended in a country that still lives off the map and without property lines.
As Guests, we travel with our own expectations about what a place is or may be, more specifically what it will give us but the reality is often more complex and layered.  Traveling takes energy and we need to think constantly about what we are bringing to a place –the joy we are spreading and inspiration that can be mutually shared.

Come See this Tour for Yourself!
Multi-Day Tour
Follow the path of the Kaqchikel Maya in this new multi-day mountain bike route for 2019! With high-altitude pine forests, a rich Mayan history, and tons of agricultural singletrack to explore Guatemala is an amazing place to ride a bike.