Connecting climates and cultures in rural Guatemala
Its chilly; a low fog envelops the valley of Quetzaltenango. We hustle to stay warm load the mountain bikes on the van and rush into the hotel for breakfast. This is our on our second day of a custom enduro mountain bike itinerary connecting the highlands of Guatemala.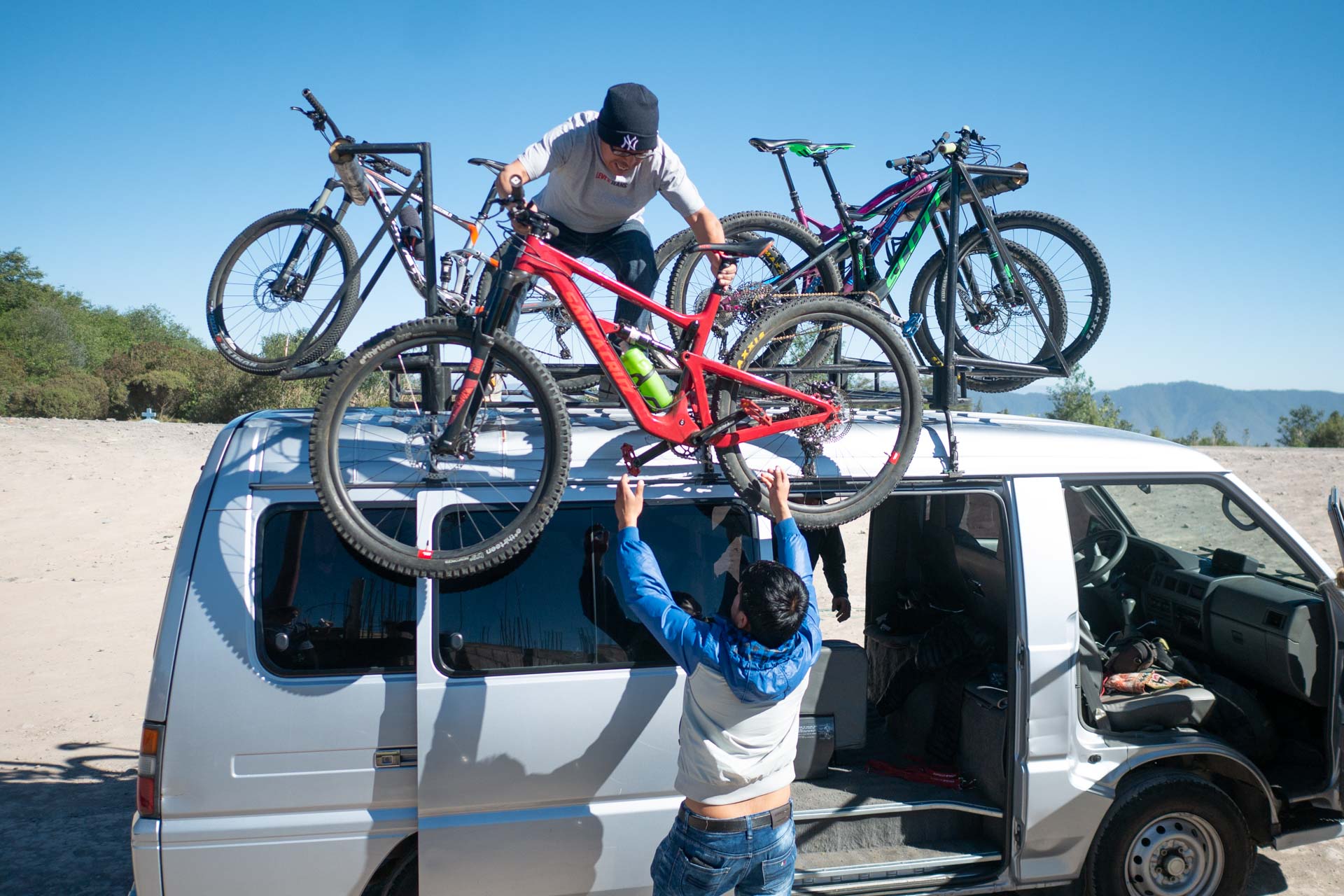 Yesterday we crossed the communal forests of
Parcialidad Vasquez Otziles
in
Totonicapán
near 11,000ft. The riding was remote, technical and left us with a taste of the raw Mayan trails that Guatemala had to offer.
Despite a few bushwacks and route finding the morale of the group was good – which set us up for the big day I had planned ahead. Today we were going where no mountain bike tour had been – a 2800m (9,000ft) downhill on the backside of
Lake Atitlán
dubbed "
la Infinita
".
La Cumbre Alaska 3000m (10,000ft) is the highest point on the Panamerican highway. Views stretch across the valley of Quetzaltenango with Volcán Tajumulco (the highest volcano in Guatemala) to the north.
Altiplano
It is 9am and we are at the highpoint on the Pan American highway "La Cumbre Alaska". We meet up with a few locals who will join us. Andres and Gato are fresh back from Guatemala City with two new Scott Ransom bikes eager to stretch them out. With us from the day before are Colt from Canada, Emily from the US and Ricky from Venezuela.
Clear weather affords us views of the valley of Quetzaltenanago – Guatemala's second largest city.  At 3200m Guatemala is a windswept alpine grassland devoid of trees. Below are small groves of cypress and pine and in the distance we could see two of Guatemala's highest volcanoes: Tajumulco and Tacaná on the northern border with Mexico.
Descending over 2,800m (9,000ft) La Infinita passes through a variety of climates and isolated Mayan villages.

For this ride we had a mix of forigners as well as locals.
Altitude and isolation
The locals here lead isolated lives speaking their own language and generally keeping to themselves. The air at this altitude is thin and cold, frosts are common and it is a constant struggle to get the land to produce. Elders peek out of doorways as we pass on bikes. Children with burned cheeks shout "gringo, gringo!"
Views across the country
From our highpoint on the altiplano we see a myriad of volcanoes stacked in tectonic row on the horizon. To the far southeast are the volcanoes of Antigua: Agua, Acatenango and the active Fuego.  Closer to us, the familiar volcanoes of Lake Atitlán: San Pedro, Tollimán and Atitlán positioned at a unique 180° tilt from their typical postcard shot from the dock in Panajachel.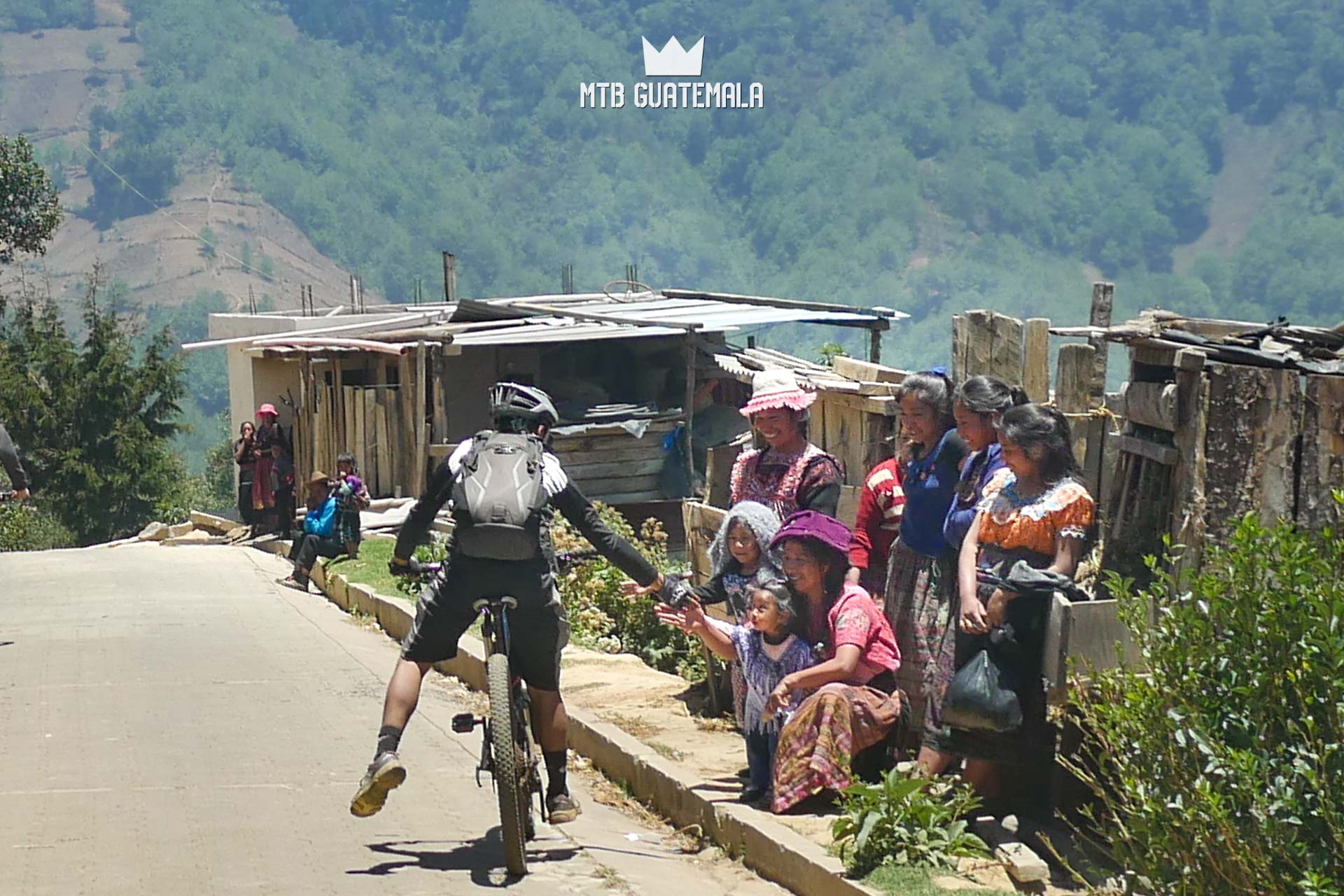 We in our small group — tiny dots amidst a volcanic landscape of immense proportion riding on a ridge leading to Volcán Zunil. We push push our bikes along steadily climbing.

The southern flanks of the volcano hold thick cloud cover obscuring the views to the Pacific 11,000ft below:  La infinita awaits.
Bring the Gnar
The upper part of la infinita is nearly unridable by bike — an ancient hiking trail strewn with a cacophony of boulders ledges and rock gardens. Steep drops feed into jumbled lines of volcanic rock with no exit. Gato, particularly game on riding his new bike would ride for a few meters before getting stuffed by a refrigerator sized boulder in his path.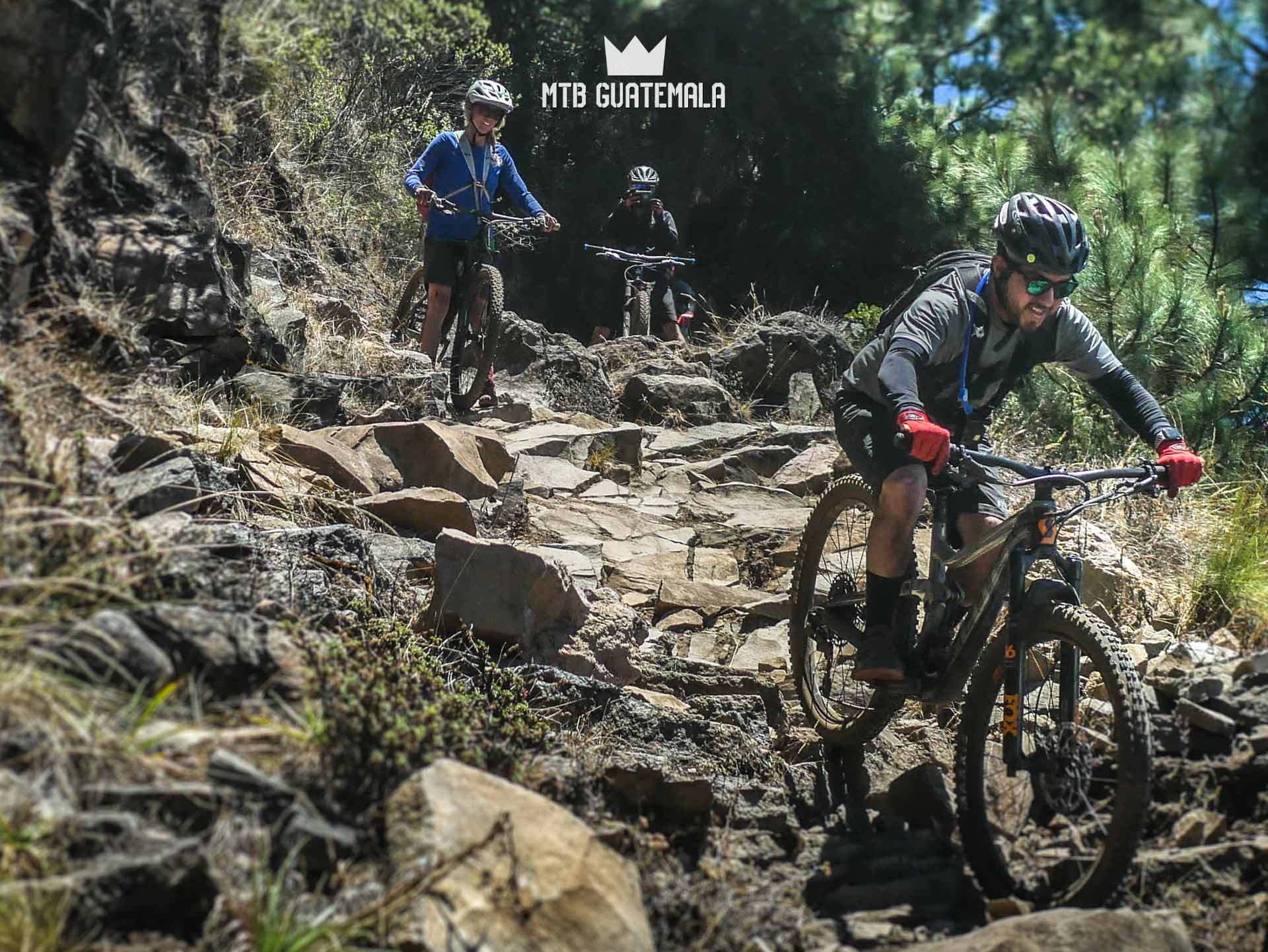 Ransom patrol. The upper part of La infinita is riddled with volcanic Rock.

Mayan Trails and Cultural Crossroads
In Guatemala, Mayan trails form an infrastructure that connects the country. Spidery arteries connect rigelines – with steep  zig zagging swithcbacks that descend steep canyons.  The trails here are constantly in flux and can be a real challenge by mountain bike as they change seasonally with with rockfall, landslides and local logging operations.
Guatemala is a mix of Mayan ethnic groups with isolated pockets of language and culture. The mountainous terrain ads to the cultural diversity of the country and it is not uncommon to have residents neighboring vallies speaking their own unique languages.
Kaqchikel is the dominant culture around Lake Atitlán with a large territory that stretches to Antigua. To the north is the kingdom of Quiché. Leaving the high plains we come into contact with a satellite pueblo that speakers K'iche as well. The inhabitants of T'zanjup.  The town is situated are at the end of a long series of 4×4 roads that connect up from the pacific coast.  Visitors are not common here. All around us are people, on ridges, in fields – platforms and rooftops staring.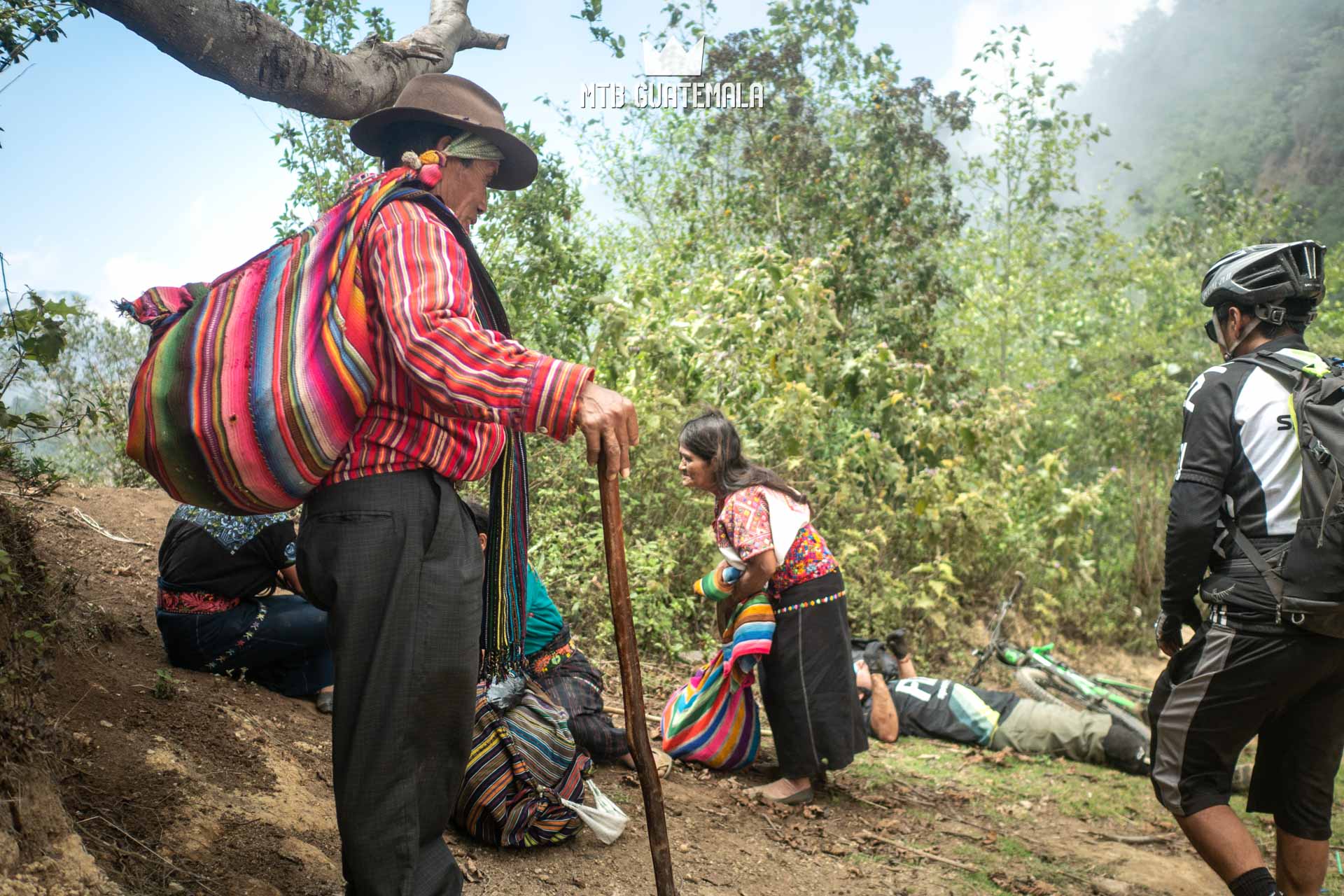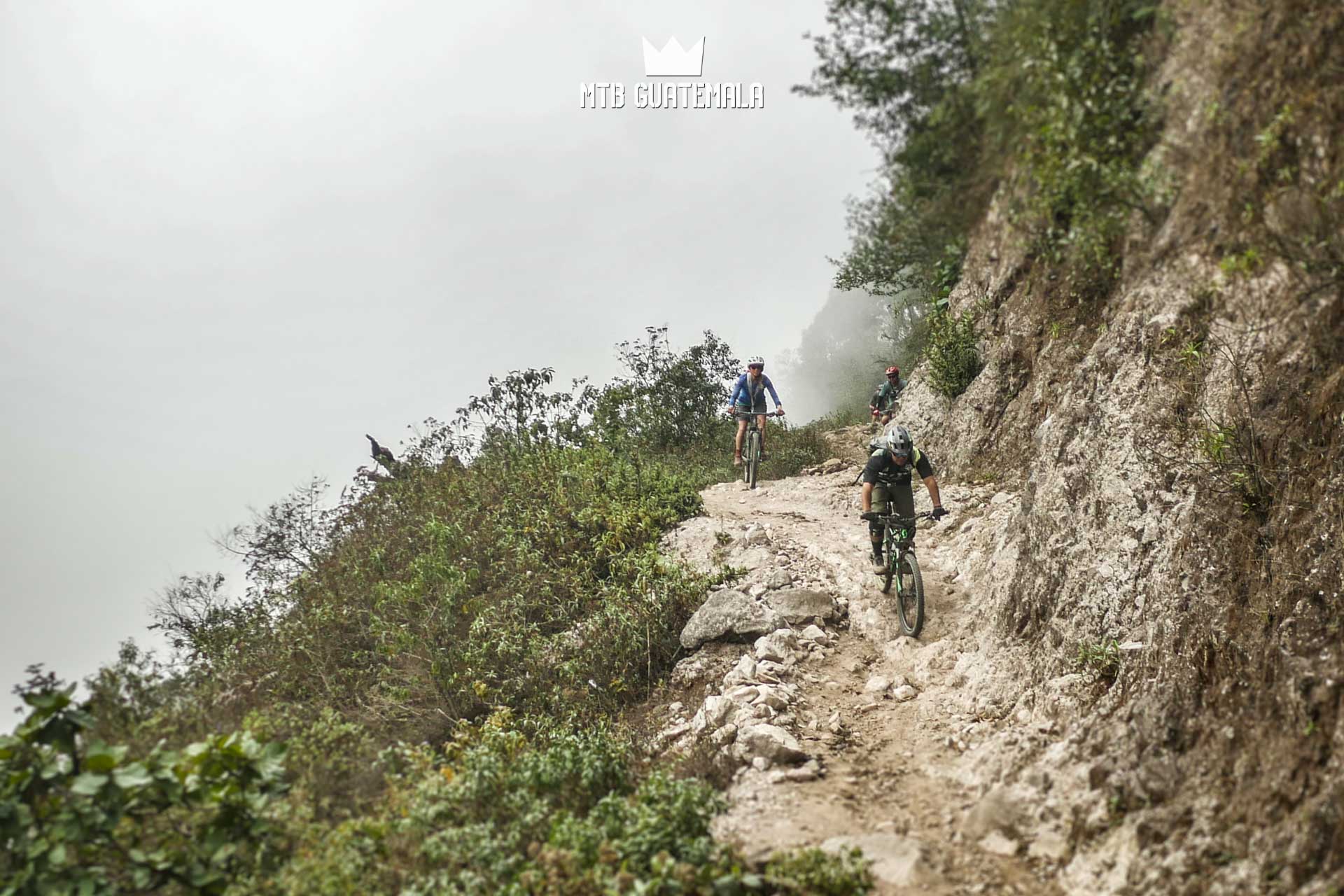 The locals always beat you on the uphills.
We push our bikes up a steep pass – hopscotching with a local family carrying heavy loads wrapped in blankets on their backs. They beat us to the top. At the pass we lie down, exhausted. Cultural curiosity connects us. "You are the first cyclists we have seen on this route" the grandfather says to us in K'iché.
We heading in the same direction – following a trail worn by hundreds of years of foot travel. Although our destinations are the same – the 70 old man and his 2 generations of offspring beat us down the trail – disappearing into the forest. We do not see them again.
In Guatemala, as in any new place travelers need to be friendly and above all respectful. Cities, as with most urban places throughout the world come with their dangers —the rural countryside is another story. The farther you get out the more surprised locals are to see tourists, and the friendlier welcome you receive.
Obscured by tropical cloud cover – the size of the mountains in Guatemala can be deceiving. I looked at my GPS – we had descended 1000m and still had over 1800m to go to reach the coastal plains below.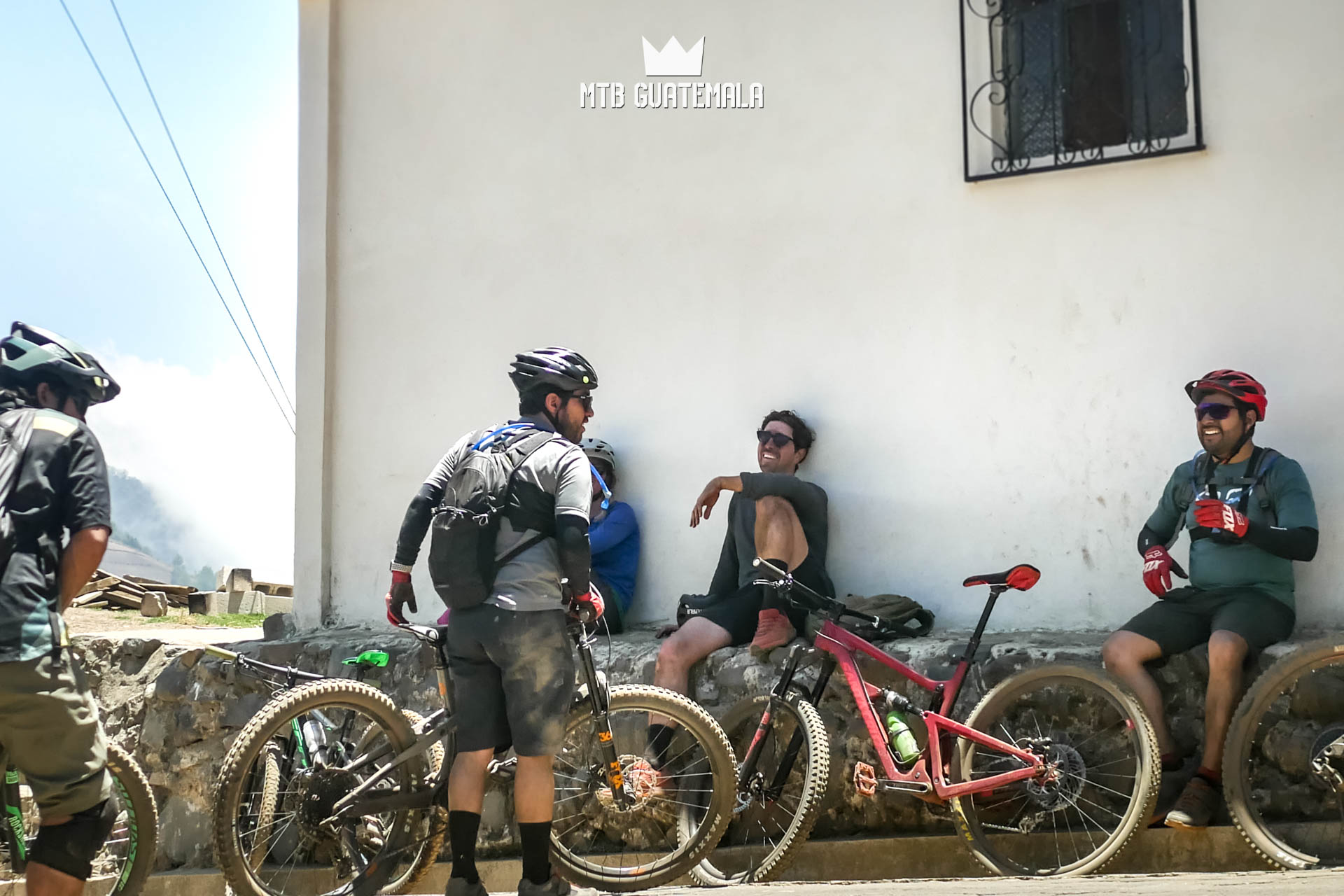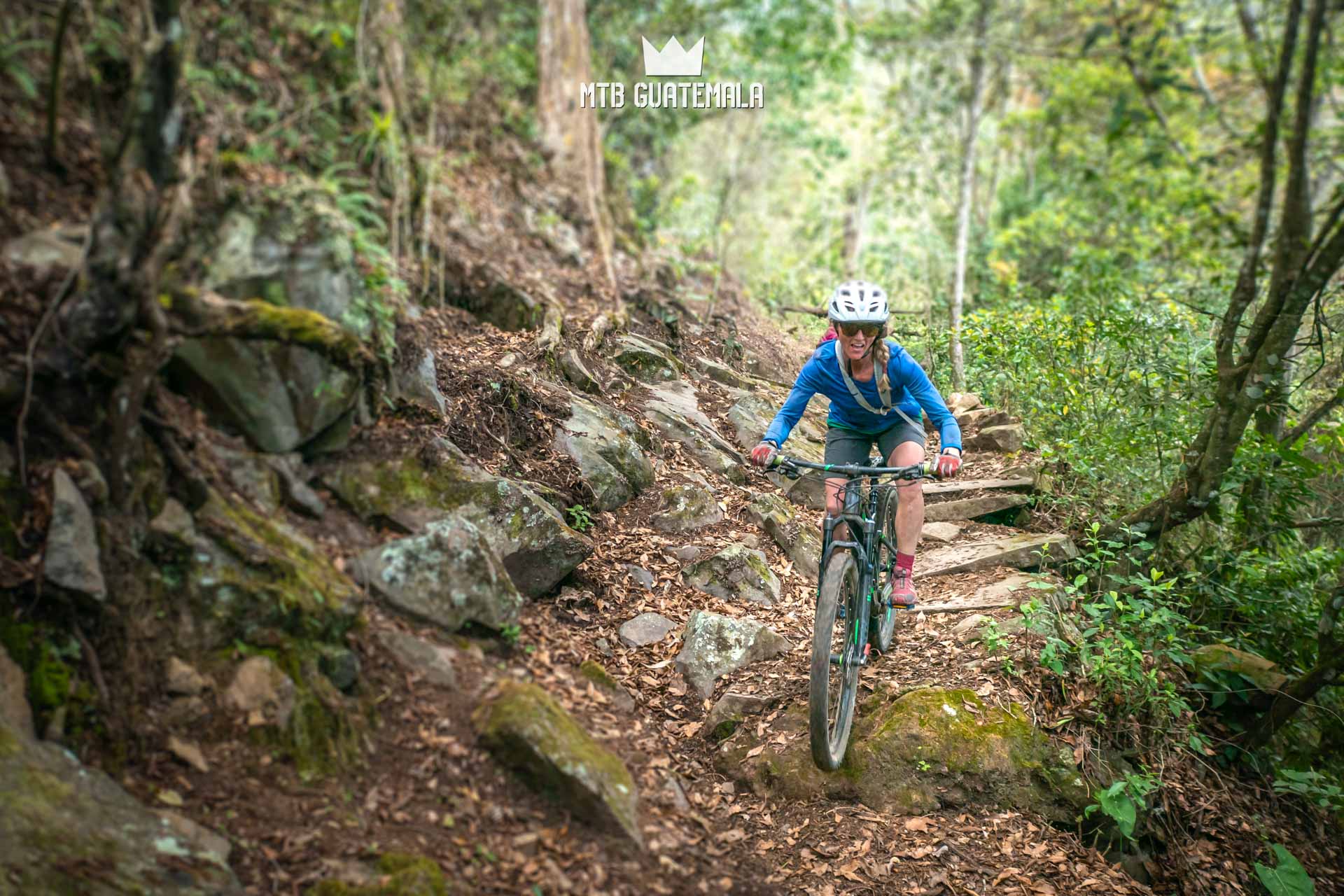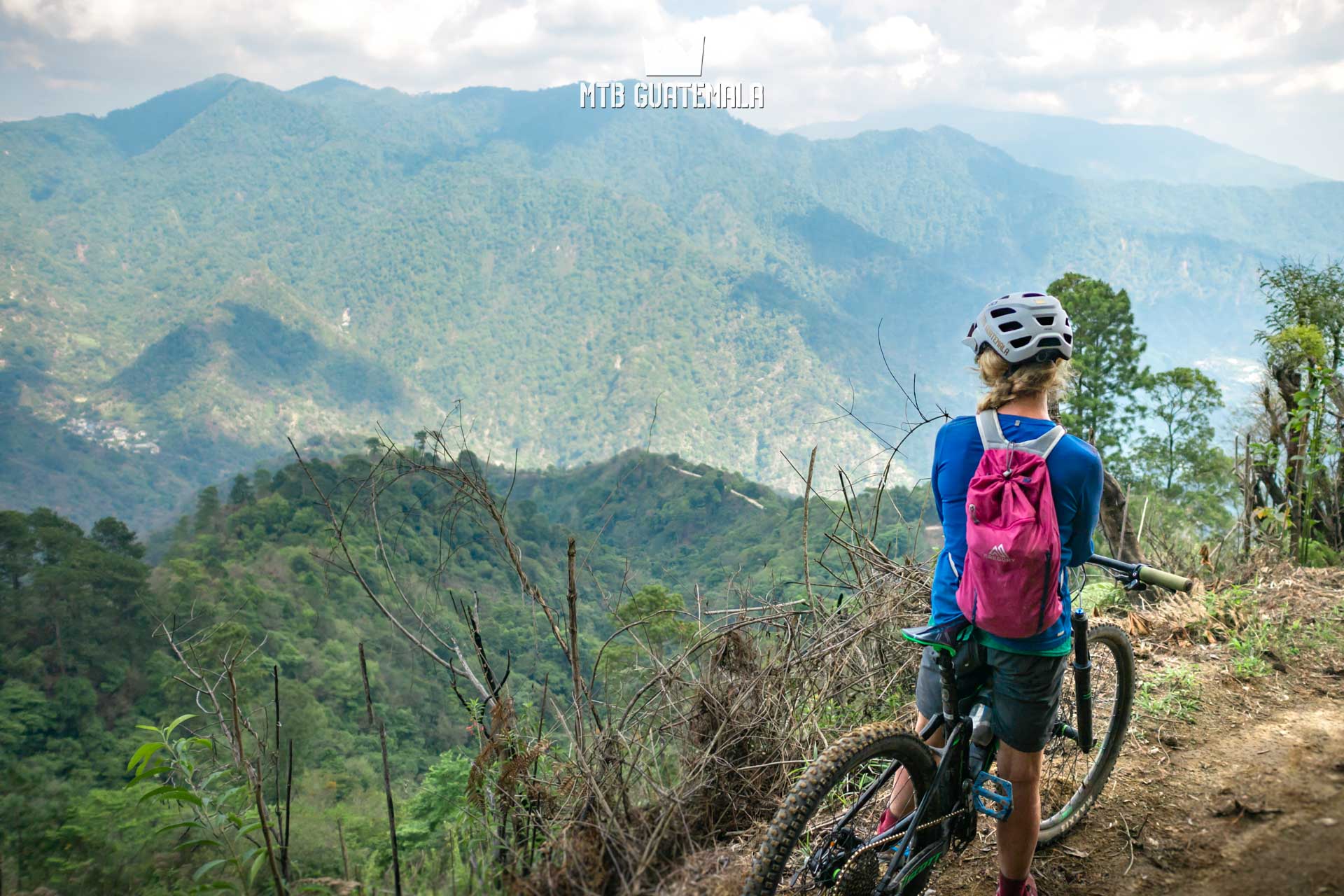 Our trail sinuously cuts along steep cliffs and mountain ridges  down to the tropical lowlands.  Around 1700m we break through the clouds and enter la tierra temblada – the temperate climate zone. Small plots of coffee and corn break up the pine forest.  Sections of the trail are so slick with mud that we have to hike the bikes down.
I check my watch – we have descended 1000m and still have 1800m to go down to the coastal plains below. A few of us are exhausted from the climbs and are having a hard time staying on top of the bikes. Ronny's legs are starting to cramp up and he lays in the trail while Alex attempts to relive the pain.
Alex attempts to sooth Ronny's trailside cramps. 
Its getting hotter on our descent and we take shade beneath enormous Banana trees on the side of the trail. We are at 1000m entering La Tierra Caliente — Guatemala's hot lowlands. This is country's hottest climate: Orange, Papaya and fruit trees dot the landscape – we're sweating.
We emerge in a village cut into the mountainside and a girl in a tight Tommy Hilfiger shirt comes out and demands a picture with me – her hands covered with corn tortilla flour. "I want a picture with you" she says – pointing at me.
Her mother is there and her grandmother too. The women offer us fresh tortillas and egg sandwiches welcoming us to their town – which only has about 5 buildings. They tell us they don't actually live here – and come up from the town 1000m below to make the Tortillas each day.
After taking pictures with the group they refuse all payment and we continue on our way — dazed and grateful for the surprise snack.
Reaching our lowpoint at San Miguelito was only half the journey – We armed the bikes for the rough 2 hour 4×4 ride back up to altitude.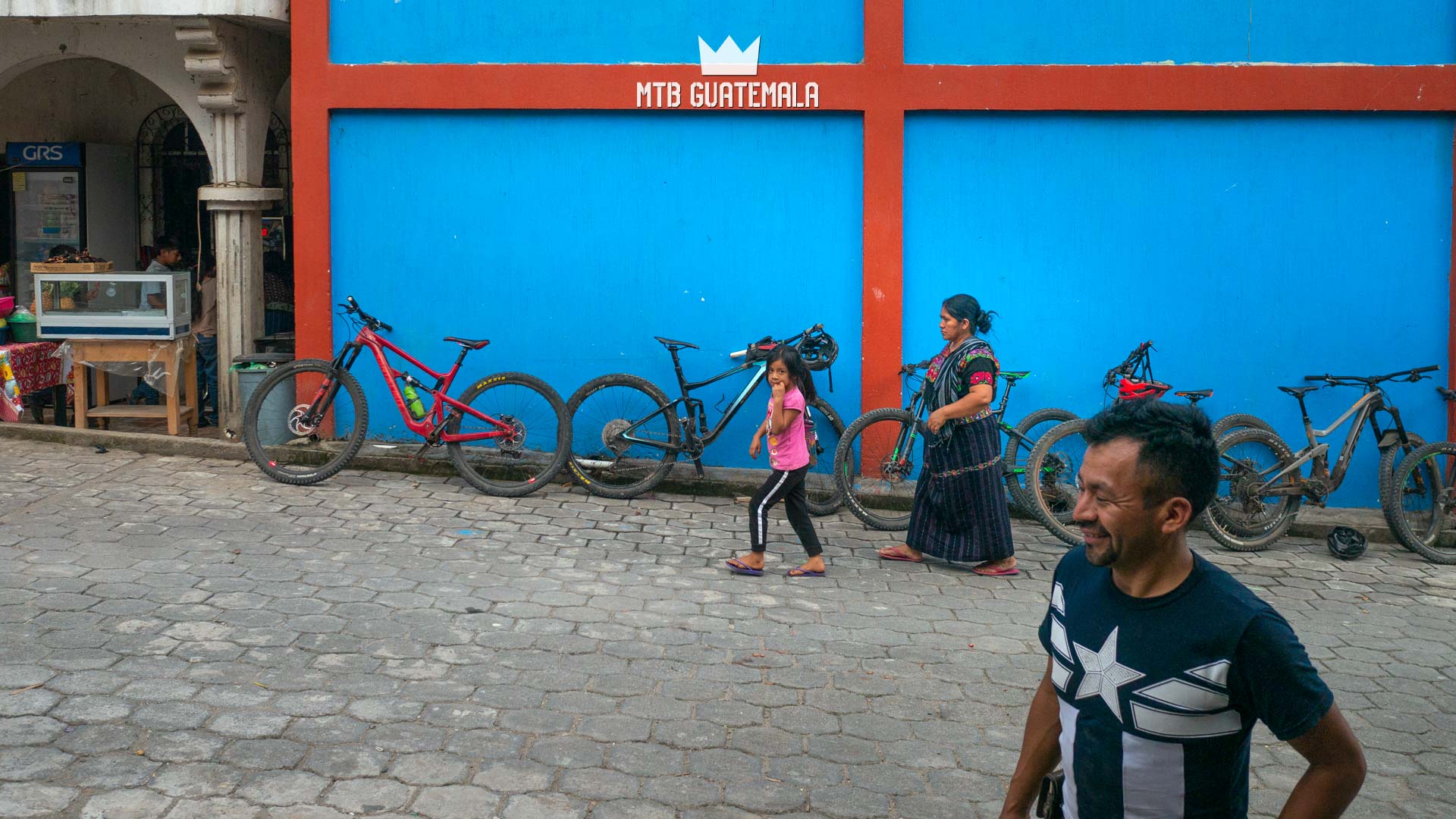 Battered from nearly 6 hours of riding but all smiles our group arrives at our lowpoint – a tropical town at the edge of the coastal plains. Children play in the gutters and the local evangelical church shakes the ground with large subwoofers.
We stumble into the shade and celebrate with a round of drinks at the local tienda. Our Pickup truck and driver arrives, exhausted from a 3 hour 4×4 journey which included crossing several washed out sections of road. The ride back up through the jungle was not going to be easy.
The variety of culture and landscapes in Guatemala that you can cross in day by mountain bike makes it a compelling reason to visit the country. There are few places on earth where you can link thousand year old trails that start in the sub-zero highlands and finish in the tropics.
As Guatemala grows as an international mountain bike destination my goal is to promote routes like these as a sustainable way to experience the rich cultural and biodiversity that the country has to offer.
-Brendan James
Mountain Bike Guatemala is privileged to be at the forefront of a growing sport and ecotourism revolution the country. Our tours pass through small towns and vnew sights relieving the strain that traditional tourism puts on the environment.
Mountain biking is sustainable tourism — placing a value on forests beyond resource extraction. Mountain biking can also provide an alternative revenue stream for isolated indigenous communities that are struggling to adapt in a changing world.
Get in touch and let us show you the real Guatemala.
La Infinita is the grand culmination of our 5 day
Enduro MTB Tour
The best enduro rides in Guatemala in 5 jam-packed days.