-10,554m (-34,626ft)
Descent
3,270m (10,728ft)
Max Alt.
Description
Put simply: the best enduro riding in Guatemala in five jam-packed days. If you are looking for a trip to get acquainted the country and it's varied, technical riding this is it! We will connect 1000 year old trails on an ancient Mayan trading route from Antigua to Lake Atitlán.
The best combination of trails in a point-to point shuttle assisted itinerary.
Stunning scenery, Mayan culture, and high-altitude technical riding.
A visit to the ruins of Ixcimché – the former capital of the Kaqchikel Maya
Stay in a unique boat-accessed hotel
---
Sights On This Tour
Why Ride with Us?
With years of experience riding, racing and exploring in Guatemala our guides know the trails better than anyone.
Additional information
| | |
| --- | --- |
| Nights in Hotel | 7 |
| Riding Style | Enduro |
Day 0: Arrival
Welcome to Guatemala! - Please schedule your flight to arrive today at the latest. Want us to pick you up at the airport?  We will assemble our bikes today in preparation for our first day of riding tomorrow. At our welcome dinner tonight you will get a chance to meet and talk with your guides about the upcoming epicness that is to come later in the week.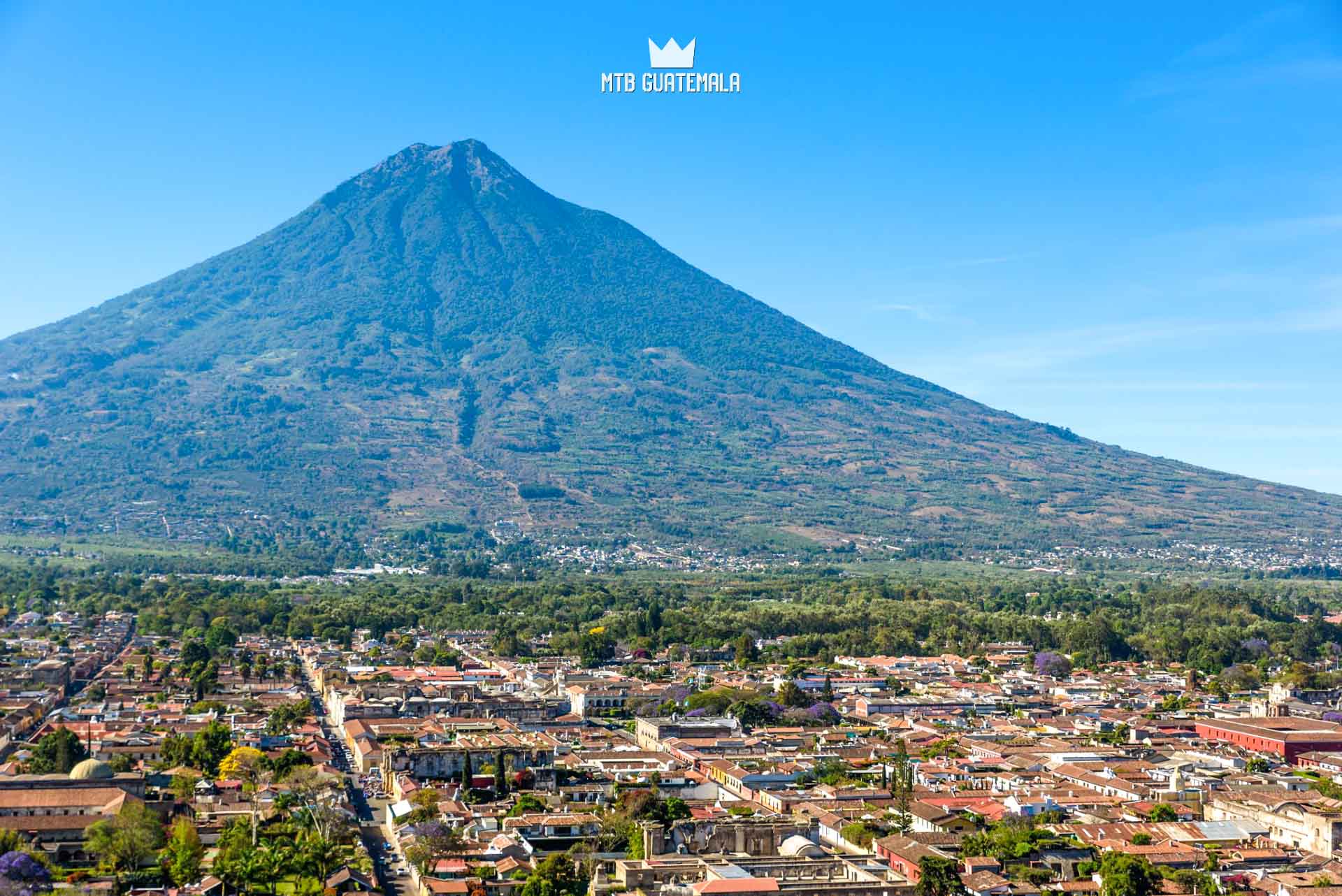 Cerro de La Cruz Antigua, Guatemala ()Photo By: Brendan James ©2018 MTBguatemala.com
Day 1: Antigua Enduro
True to its name, "La Antigua" is a
UNESCO world heritage site
with loads of history to explore.
Today we will become more acquainted with the valley - by shredding a couple of the epic downhills above town! We will shuttle up to the flanks of the Acatenango Volcano to 2500m for our first descent. Which will take us down through avocado and coffee plantations along steep and eroded agricultural trails. Shuttle number two will  set us up for a screaming descent to Antigua for the afternoon. 
| Distance | Ascent | Descent | Max Altitude |
| --- | --- | --- | --- |
| 29.47km 18.31mi | 6,91m 2,268ft | -2,122m -6,962ft | 2,529m 8,298ft |
Day 2: Highland Traverse
Today begins with a shuttle up to 2500m in an isolated area below the towering Acatenango volcano (3976m). Starting from a remote  Mayan town we will climb steep dirt roads, 4x4 tracks to gain an alpine ridge.
Traversing the ridge will afford views all the way to the ocean as well as the active Fuego volcano. All climbing will be rewarded by a 7k downhill which follows one of the stages of the country's enduro series.
The second half of the day will bring steep single track descents through the canyons of Patzún before finishing in Tecpán at a 19th century flower mill. We will be crossing the country and it's various ecosystems by bike in this varied point-to point day.
| Distance | Ascent | Descent | Max Altitude |
| --- | --- | --- | --- |
| 29.47km 18.31mi | 902m 2,959ft | -1,074m -3,524ft | 2,545m 8,350ft |
Day 3: Tecpán-Pana
Our largest day of the tour, this legendary trail follows the route of the Kaqchiquel Maya from the mountains of
Tecpán
to the shores of
Lake Atitlán
. The route is isolated and unique!
In the morning we will visit the Ruins of Iximché. You will see Mayan pyramids and learn a little history before we head out by bike on the trails of the Kaqchikel Maya crossing a patchwork of canyons and technical trails.
Our route follows the exodus of the Kaqchiquel to Lake Atitlán after the spanish conquest. The lake is still alive with their culture and language to this day. We will descend an ancient and eroded trail to the Madre Vieja River. "sendero de las vacas" named after encounters with cows ascending the deep, switchbacking trail - with nowhere to go, bikers had to climb up to let the herd pass!
After a quick shuttle we will get our first views of Lake Atitlán: an enormous volcanic caldera so rounded by 3 volcanoes. We will have a picnic lunch at a viewpoint before descending "La Culebra" a legendary 5 star downhill following an aqueduct along cliffs above the lake. Our day will finish with an urban downhill through the town of Santa Catarina Palopó - famous for its rich colors and textiles.
| Distance | Ascent | Descent | Max Altitude |
| --- | --- | --- | --- |
| 31.29km 19.44mi | 722m 2,360ft | -2,224m -7,297ft | 2,543m 8,343ft |
Day 4: Atitlán DH
Shuttle to the rim of the Lake Atitlán caldera at 2900m. From here, we climb 3mi on serene jeep roads to an alpine plateau with unmatched views of the lake and its environs. Canyons and volcanoes abound. Will will pass through an area known as "El Corazon de las Nubes" a Mayan Ceremonial site.
At this altitude the ecology in Guatemala is a unique mix of alpine grass, grazing sheep, and agave plants. We will follow rocky, oftentimes technical singletrack through pine forests passing through small Mayan communities and canyons.
After a picnic lunch and short shuttle we will continue our descent to Lake Atitlán in a 1000m DH - the most technical of all the tour. At the shore of the Lake enjoy a beverage with a view as you await your private boat to La Casa de Mundo - a unique cliff-side hotel.
| Distance | Ascent | Descent | Max Altitude |
| --- | --- | --- | --- |
| 26.4km 16.93mi | 343m 1,125ft | -1,681m -5,515ft | 2,872m 9,423ft |
Day 5: Bonus Day
Yes, this is a mountain bike tour, but who says you can't get a little R&R? Today we will be offering two options - lounge the day away at
Casa del Mundo
- with kayak and standup paddle board rentals - or join our guide for one of the most epic downhills of the trip:
La infinita
.
For this big day we will leave early with a private boat to the western side of the lake - we will meet our pilot and shuttle up to 3352m (11,000ft) above the city of Quetzaltenango. From this high point known as the Cumbre Alaska our descent will take us down through multiple climates from the frosty alpine to coffee, banana and fruit plantations. Our low point will be San Miguelito at 1000m.
We will shuttle back up to to the rim of Lake Atitlán - and make our final 800m descent to the shore, where we will stumble back into the hotel and ask our friends how their day of sunbathing went. 😀
| Distance | Ascent | Descent | Max Altitude |
| --- | --- | --- | --- |
| 42.6km 26.13mi | 1179m 3,868ft | -3,511m -11,519ft | 3,270m 10,728ft |
Day 6: Return to Antigua
Tired and satisfied we will take in our last views of Lake Atitlán and begin the 4-5hr transfer back to Antigua - passing through the area that we have crossed the last couple of days.
We will say our goodbyes at a final dinner in Antigua before returning to our respective real lives!
~fin.
Night 1, 2 & 7: Antigua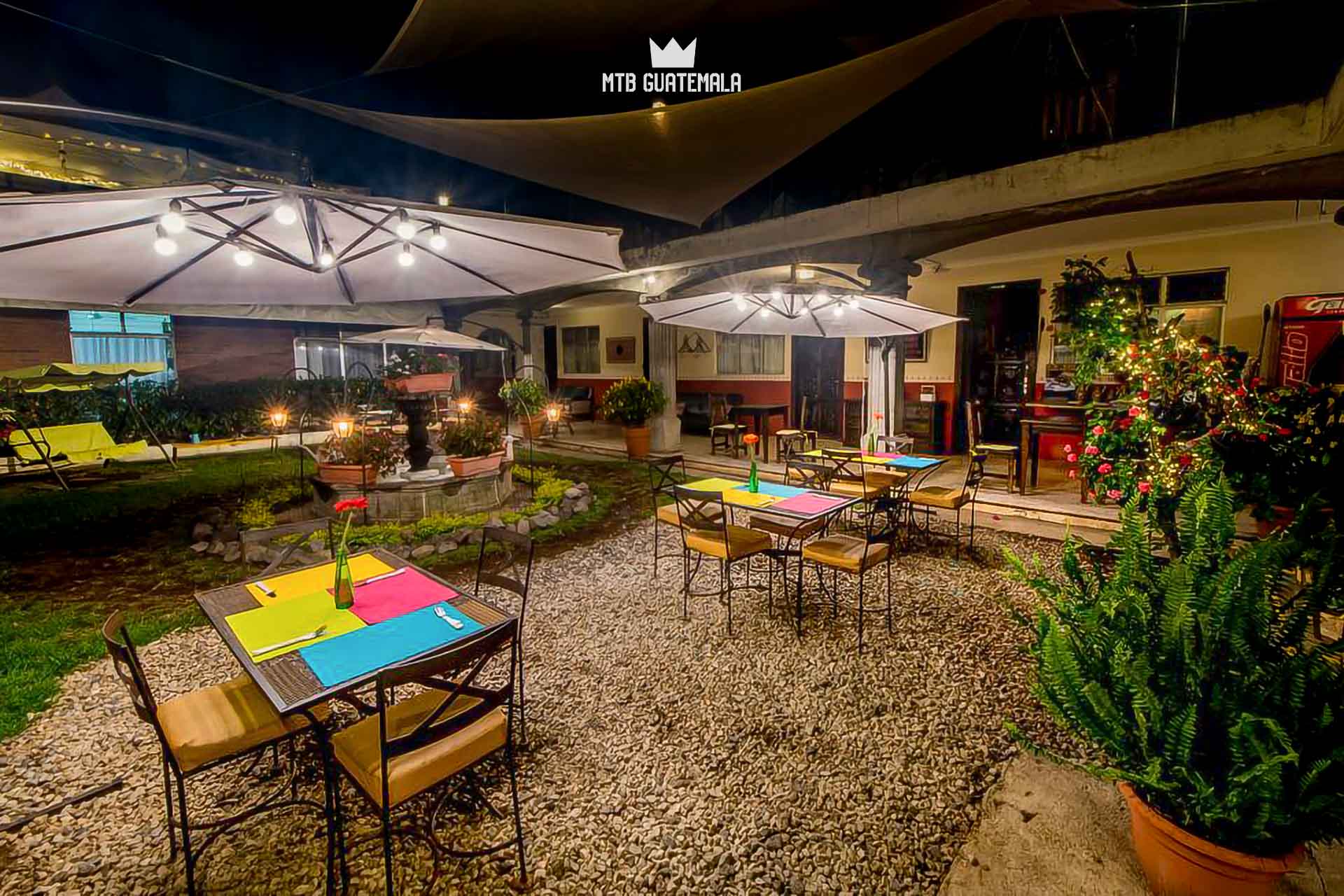 Posada de San Carlos - Antigua
Featuring lush gardens and a terrace, Posada de San Carlos offers four star accommodation in Antigua Guatemala. Located centrally there are many restaurants, bars and shops located a few blocks of the property. The town's historic Central Park is 100 m from the hotel as well as a handicrafts market within a 5-minute walk.
Posada de San Carlos includes a restaurant cafe and bar. Room service is also available for guests.
Night 2: Tecpán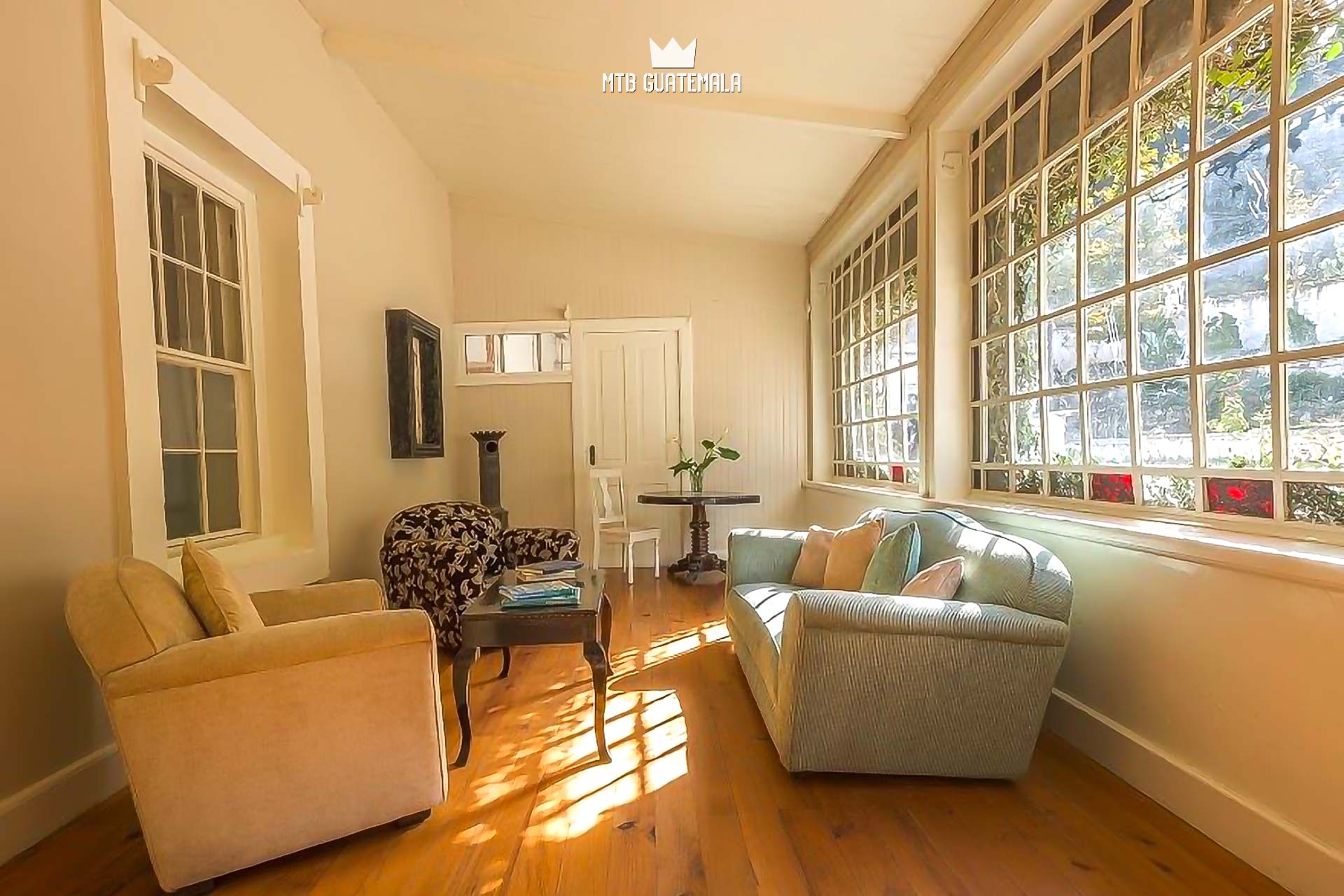 Finca Molino Helvetia Tecpán, Guatemala
Built in 1878, it was the first facility of its kind to process wheat in Central America. In recent years the historic mill has been renovated - and the surrounding forests put into a nature reserve.
Staying at finca Helvetia is like taking a step back in time, the rooms are quaint and the bed and breakfast retains the furnishings of a 19th century farmhouse. The property begs to be explored with extensive gardens, a fish farm as well as old steam-powered machinery.
Night 3: Panajachel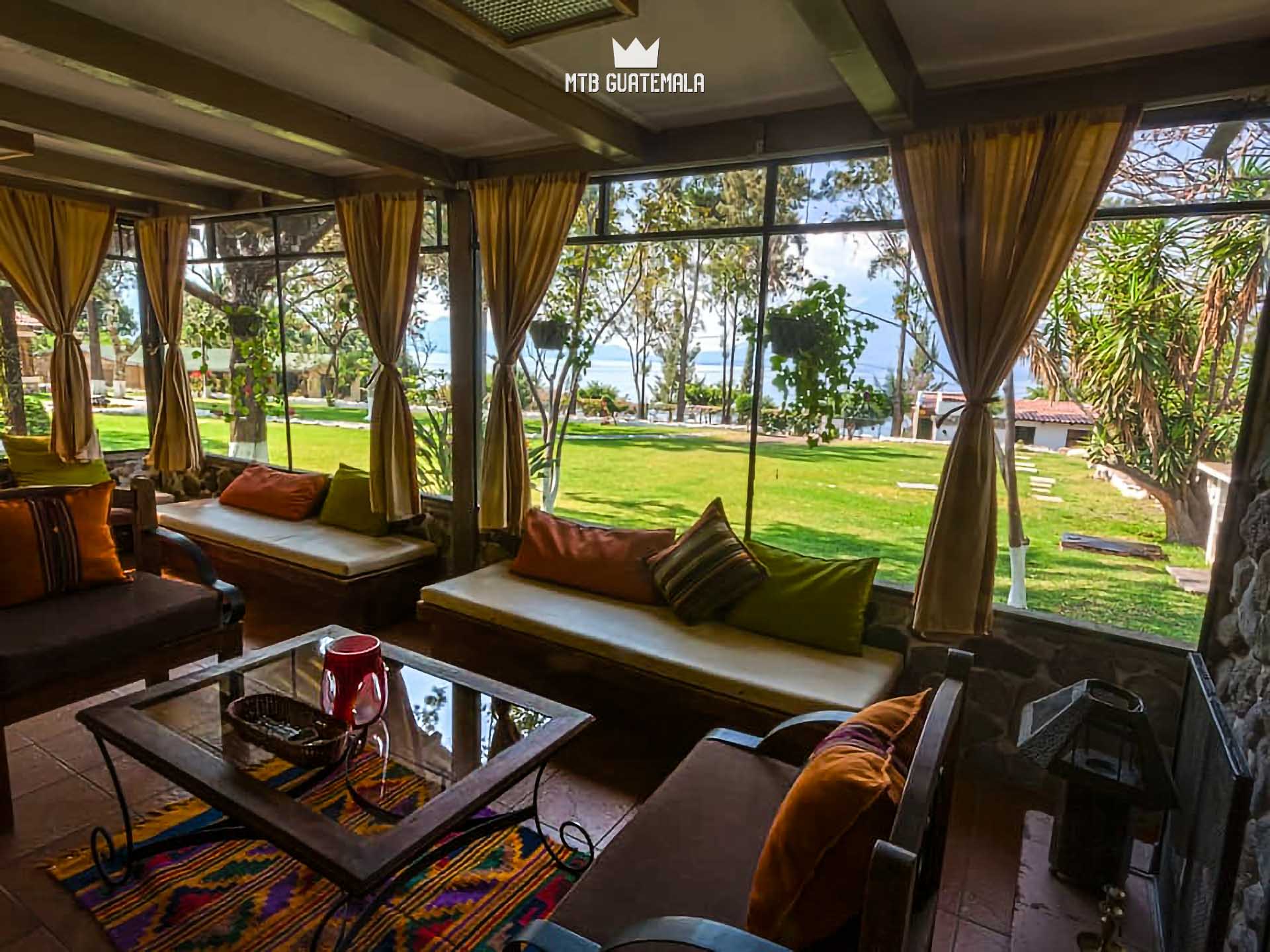 Casa Jucanya
This private house rental is in a stunning location a short distance from Panajachel in a quiet area. Guests can enjoy a large garden, hottub and beach access to Lake Atitlán.
Night 4, 5: Jaibalito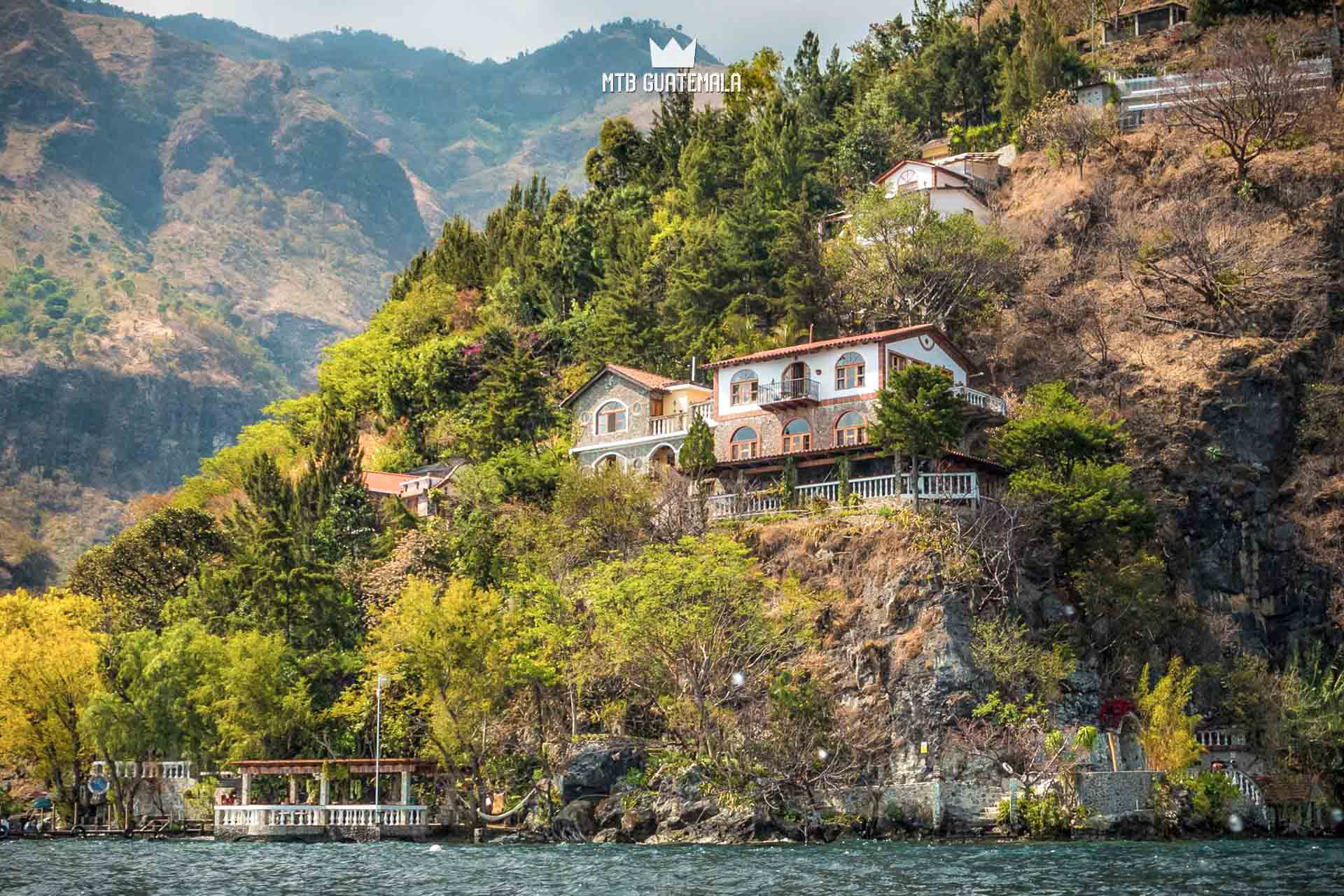 La Casa Del Mundo
This unique boat-accessed hotel is built into a cliff on the shores of Lake Atitlán. It's layered terraces provide ample viewpoints to appreciate the lake. West facing - sunsets here are not to be missed!
The hotel has been built over a period of 20 years and his full of character. While staying here, guests enjoy swimming, hiking, kayaking, or visiting nearby villages.
TRIP DETAILS

SPECIFIC DATES

Nov. 4th (Sunday) – Nov 10th (Saturday)
Dec. 2nd (Sunday) – Dec 8th (Saturday)5 Riding Days7 Nights (Hotel included)
ARRIVAL / DEPARTURE
Guatemala International Airport

Please schedule your flight dates for at least 24hrs before and after your tour.

Let us know if you would like us to pick you up at the airport

INCLUDED

| | |
| --- | --- |
| Meals | Accommodations |
| Ground Transportation | Professional guide |
| Entrance fees | |

NOT INCLUDED