This article was last modified on July 14th, 2021 at 10:39 am
Finca Espinero is located atop cerro Tecpán at 3100m. A logging operation turned environmental park, the finca has over 150 years of history with Swiss-German roots. The property is beautifully maintained and with rivers, lakes, historic structures and trails to explore.
Tecpán: the Christmas Tree capital of Guatemala
The cold environment at the top of the mountain is home to the Guatemalan Fir or Pinabete, famous for being one of the most aromatic Christmas trees in the world. Finca Espinero operates in conjunction with CONAP and the national forest institute (INAB) to produce the rare Christmas trees in a sustainable way and on the property you will find at least 180,000 planted pinabete trees.
Guatemalan Pinabetes
The Guatemalan fir or pinabete, is an evergreen tree native to Central America. The fir in its natural state grows in the mountainous fringe of the western highlands at altitudes ranging from 2,400 to 3,500 meters above sea level. Due to agricultural expansion and logging – the Guatemalan pinabete is considered an endangered species.

The farm is an authorized conservation area for INAB – Instituto Nacional de Bosques who recognize the pinabete pines as essential for the regeneration of water and oxygen. In the wild, less than 1% of pinabete seeds germinate, making the survival of the species highly unlikely without intervention. In 1997 an initiative was created to protect the Pinabete was created incentivizing farms to plant the endangered pine and encouraging legal cultivating and sales during Christmas.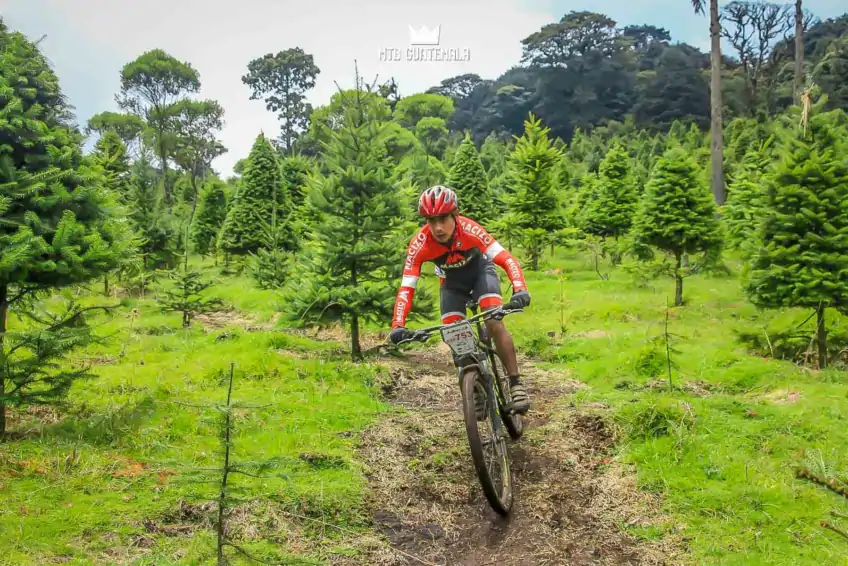 Finc Espinero: Activities
Finca Espinero has several rustic log cabins which can be rented for the night. There is also a large pond where you can use row-boats. The 335 acre property has various trails for running and mountain biking. The property was the site of El Rey De Los Cerros XC Marathon race in 2018 and 2019.
Sources
Gardner, M. 2013. Abies guatemalensis var. guatemalensis. The IUCN Red List of Threatened Species
Further Reading:
National Geographic 2018 – Can Guatemala's Christmas tree poachers be stopped?