-6030 (-19,785 ft)
Descent
3520m (11,549 ft)
Max Alt.
Backed by popular demand we are returning to Todos Santos "the Alps of Guatemala" for an exclusive multi day enduro tour in 2019! This 5 day enduro itinerary begins in Antigua and goes all the way to the top of the Cuchumatanes near 12,000ft  following livestock paths, old trading routes, and steep, loose rock gardens.
If you are looking for a massive Multi-day Guatemala enduro mountain bike tour this is it! High altitude riding, incredible scenery,  and some of the longest technical singletrack descents in the country.
Highlights:
Enduro (shuttle assisted) Multi-day itinerary
4 days riding
4 days in hotel
Connect various regions including Antigua, Quetzaltenango and Huehuetenango
over 5200m (19,000ft) of descent!
The majority of meals / restaurants are included
High, alpine and unworldly
For those unfamiliar the north of Guatemala is absolutely stunning with a unique dry climate with rolling hills along a unique alpine plateau with agave plants and limestone cliffs. Locals here heard sheep and brave sub-freezing temperatures at night. The riding here is unworldly and unlike anything in North America.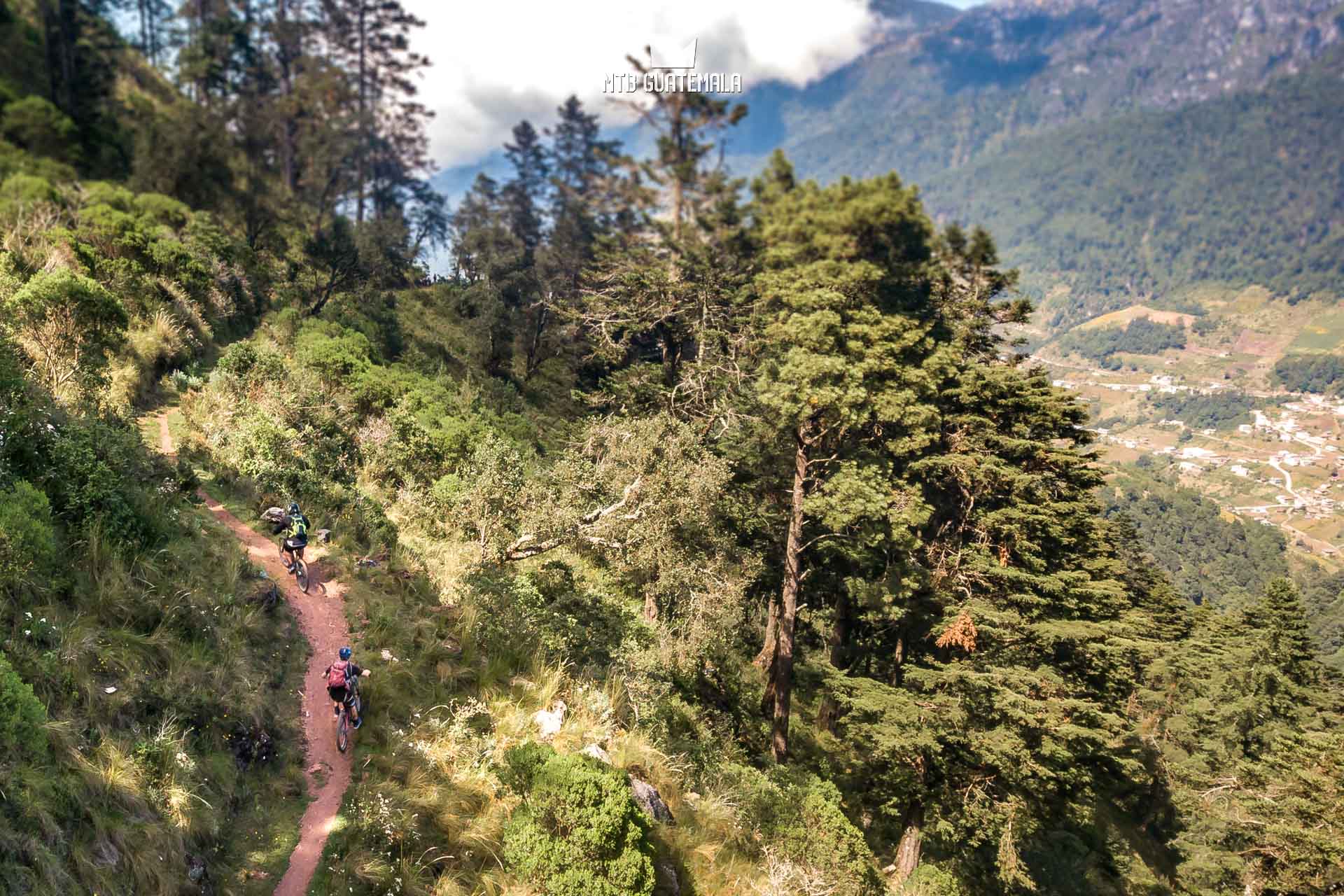 DEPARTURE
Thurs Jan. 11th 2019 12pm

La Fuente, 4a Calle Oriente #14, Antigua Guatemala

RETURN
Sunday November 13th 2019 10 pm
INCLUDED

| | |
| --- | --- |
| Meals | Accommodations |
| Ground Transportation | Professional guide |
| 5 Days of enduro riding | Shuttle support |
Don't want to fly with your Bike?
Additional information
Jan 11th - Dos Aguacates Enduro
True to its name, "La Antigua" is a UNESCO world heritage site with loads of history to explore.

Today we will become more acquainted with the valley – by shredding a couple of the epic downhills above town! We will shuttle up to the flanks of the Acatenango Volcano to 2500m for our first descent. Which will take us down through avocado and coffee plantations along steep and eroded agricultural trails. Shuttle number two will set us up for a screaming descent down rough, tunnels and an urban descent into Antigua.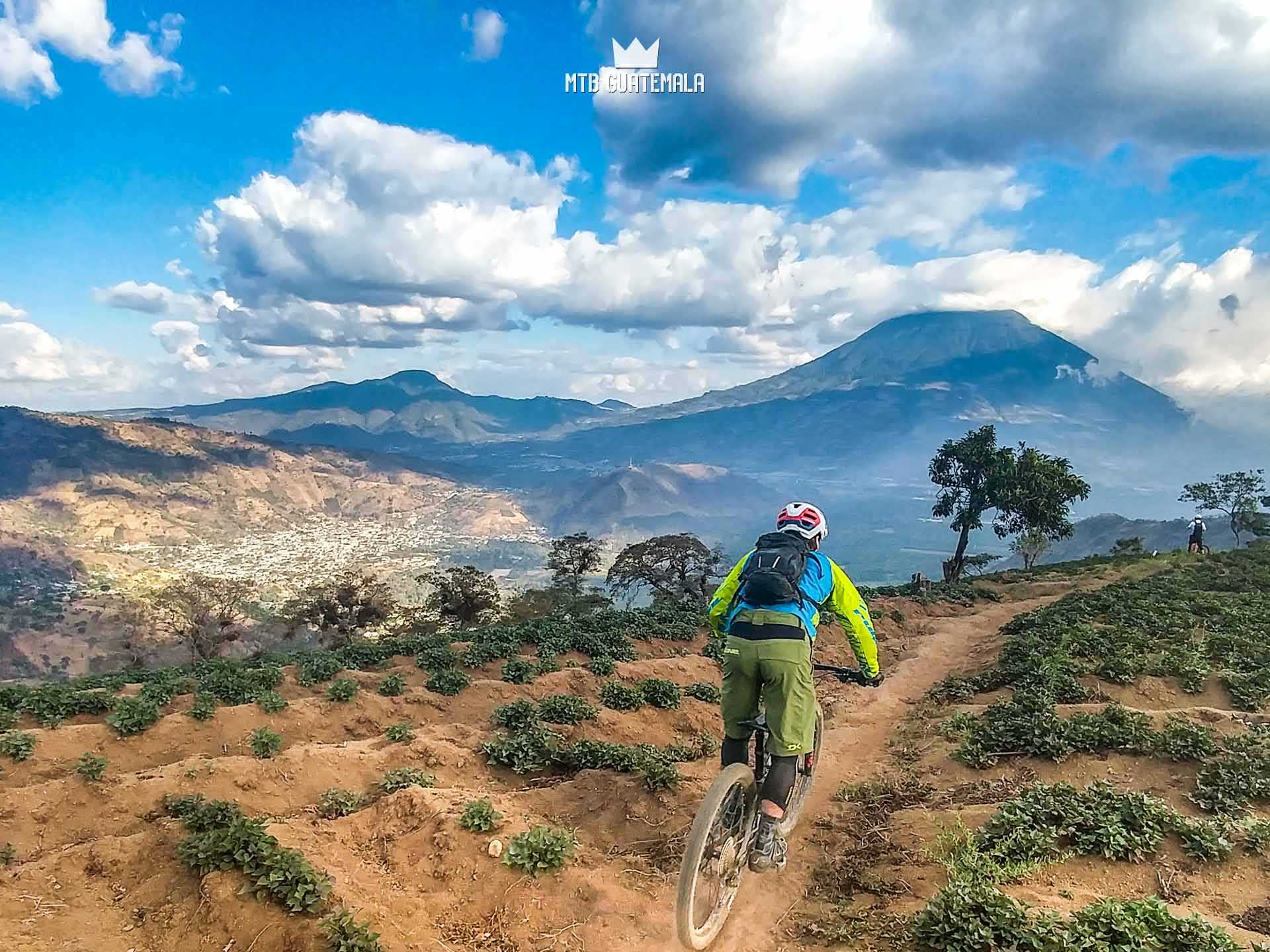 Dos Aguacates – Part 1
Dos Aguacates – Part 2

| Distance | Ascent | Descent | Max Altitude |
| --- | --- | --- | --- |
| 29.47km 18.31mi | 6,91m 2,268ft | -2,122m -6,962ft | 2,529m 8,298ft |
Jan 12th - Quetzaltenango

En route to Huehuetenango we will stop in Alaska – the 3000m highpoint on the Pan American Highway we will take the opportunity to break up the ride by riding one of the legendary descents to Quetzaltenango, or Xela where the bus will meet back up with us for lunch.
06:00 : Leave Antigua
10:00 : Cumbre Alaska
13:00 : Lunch in Quetzaltenango (included)
15:00 : arrive in Huehuetenango
Hotel / Dinner : Casa Blanca, Huehuetenango
Casa Blanca Hotel – Huehuetenango, Guatemala ⭐⭐⭐⭐


Hanging ferns and sculpted shrubs grace the attractive courtyard here, ringed by spacious, modern rooms with arched pine ceilings.
Jan 13th - Cuchumatánes Enduro

06:30 : Breakfast in hotel
07:30 : Cuchumatanes in bus
09:00 : begin enduro
This ride those in good physical condition for cycling (intermediate / expert) with a moderate amount of acclimatization.
Jan 14th Ride to Todos Santos
One of the most incredible, raw descents in Guatemala following an old trading route above the steep valley of Todos Santos Cuchumatán. Today we will cross the alpine plains of Paquix through small villages on sheep and hearding paths. Reaching "el porton del cielo" we will get our first look at the Valley Todos Santos with steep limestone cliffs and a patchwork of villages below. We will climb to a highpoint of over 3500m (11,500ft) before begining our epic and rocky descent.
| Distance | Ascent | Descent | Max Altitude |
| --- | --- | --- | --- |
| 27.42 km | 719m 2,359 ft | -1,322 m -4,337 ft | 3,520m 11,543ft |